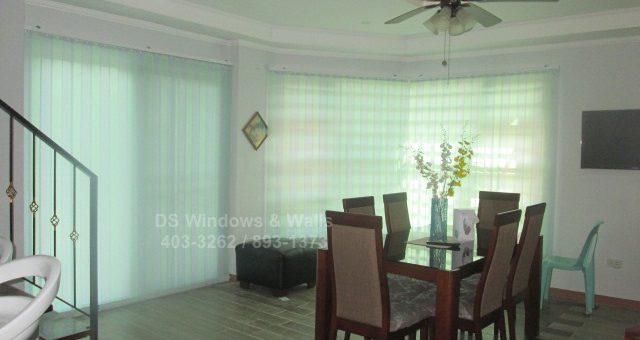 Green is one of those rare colors that looks elegant in all kinds of interior whether it's bedroom, living room or dining area. This pleasant color actually has a positive psychological impact on people. It relaxes and gives calming effect that can relieve stress. Green can be a perfect option for your dining area where family gathers at least once a day. Bright green shades, such as lime colors, make the dining area fun, modern and fills the room with energy.
Our client who owns a townhouse went for green shade motif dining area that invites positive energy and permeates calm feeling. Also, since green combines excellently with all other colors, any shade of it can be beautifully paired with any furniture colors and designs. As for our client, they used earthy colors for their flooring and standard sized furniture for the dining table and chairs to create a spacious appearance.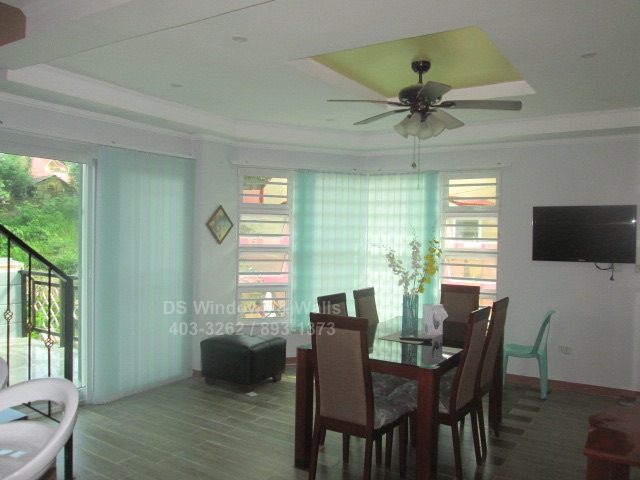 Our client also opted for a one way type (as opposed to split type) fabric vertical blinds as their window decor.  Since their dining area has a large corner window and beside the balcony glass door, these blinds helps enormously to prevent too much sunlight from entering the room while maintaining the outside view and its airy atmosphere.
One tip when ordering vertical blinds is that you can request whether you want it one-way or split control. One way control means opening the blinds will pull it in one direction either to the left or to the right. Split control means opening the blinds will pull it in the middle at the same time to left and right. Split type control is generally appropriate for wide windows while the one way control is for smaller windows but it really depends on your preference.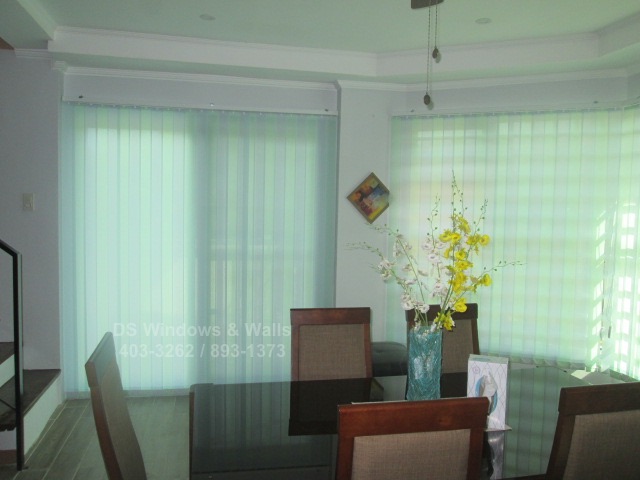 Fabric vertical blinds also offer a softer look than its sibling PVC vertical blinds and can match any room's decor.  It's functional, durable, affordable and high fashion fits the look of a modern townhouse dining area.
DS Windows & Walls is one of the leading company in providing blinds, carpet, accordion door and wallpaper. For further inquiries, you may call us at (02) 403-3262 / (02) 893-1373 / 0916-31-3909 or e-mail us at inquiry@dswindows.com.  You can also visit our showrooms located at 4th Level Waltermart, Makati City, 3rd Level Robinsons Metro East, Pasig City and 2nd Level Pacific Mall, Lucena City. For CALABARZON area, you may contact Mr. Patrick Villapando at (Globe) 0917-583-0214 or (Sun) 0922-592-6111.
Posted by Kristel
On July 4, 2017
0 Comment