Call us now at 8-403-3262 or 8-893-1373 or email at inquiry@dswindows.com for more information on our products or schedule for a FREE measurement! Absolutely no commitment at this stage. Our field agents are very knowledgeable of our products and will show you product catalog/samples during ocular.
After taking measurements, we'll send you a quotation based on your budget and preferences. If you find our proposal acceptable, you may place your order by 50% down-payment or P.O. and conformed quotation for companies. We accept cash or check through one of our branch or bank deposit.
For blinds we provide FREE installation for orders above P5,000 and if site is within Metro Manila. Allow 4-5 working days to manufacture your custom-made order. We'll SMS or call you one day before or two for an appointment to install your order. Upon installation we'll collect 50% balance.
DS Windows & Walls Interior Supply
You may also visit us at one of our sales branch located at 4th Level Waltermart Makati, 3rd Level Robinsons Metro East, and 2nd Level Pacific Mall.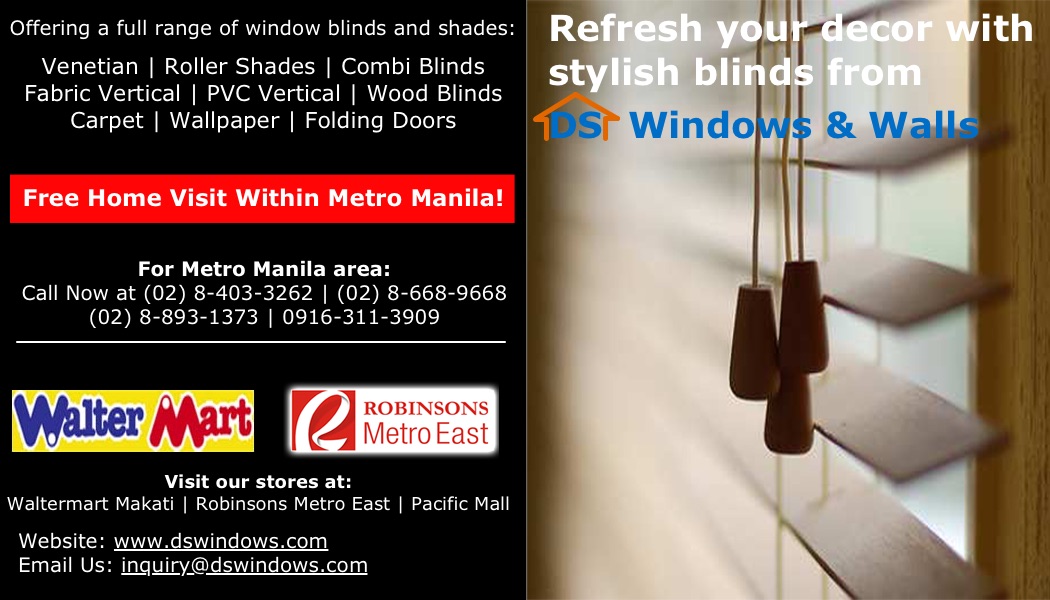 Our Stats
DS Windows & Walls is a leading supplier of window blinds, carpet, folding door, and wallpapers.
Product Quality
Customer Satisfaction
Installation Expertise
Post Sales Support
What we do and Products we offer
We pride ourselves on providing quality products and delivery/installation of different types window blinds and shades, carpeting, wallpaper and folding doors.
We offer different types of windows blinds namely roller blinds/shades, combi blinds, PVC vertical blinds, fabric vertical blinds, venetian/mini blinds, faux wood blinds, and real wood blinds.
Each blinds has different types of colors, textures, and design to choose from and has a lot of customized features and add-on parts. Our field agents and installers are very experienced and well-trained to ensure proper fit of your blinds to your windows.
Our carpet rolls and carpet tiles offering has a wide range of materials (polypropylene, olefin, nylon), colors, textures, and designs. We also have loop-type and cut-pile carpets.
We provide free measurements if the site is within Metro Manila or if you have the floor plan just send it to us at inquiry@dswindows.com for a formal quotation. Our quotations already include all accessories such as underlay foams, binders and grippers. Our carpet installers has been in the industry for several years so you're sure you're getting the best service.
PVC Folding doors a.k.a accordion doors are foldable doors that's not only stylish but also serves as a divider and saves space compared to the usual door. It is also made up of PVC even though it looks like real wood so it is water-proof and light-weight.
We have 4 types namely the regular, deluxe, special deluxe, and the french door and varies in its panel width and thickness. Special deluxe has a bit wider panels while french type folding door is the most customizable since it can have glass panels with different designs.
Unlike paint, vinyl wallpaper has several designs and patterns with quality that last for several years. It gives a wow factor to any room and the interior design that can be accomplished with it is only limited by your creativity and imagination.
We also provide free ocular and quotation for wallpapers and our field agents will bring the catalog to you while he takes the measurements. Our wallpaper installers are expert in their field to ensure proper installation for your home or office.
Try Our Motorized Blinds!
Available in 15-channel remote
Radio range 35m through 2 walls
Rated speed: 17rpm
Rated torque: 10Nm
Featured Projects and Clients
We have countless projects over the years but some of the most special ones are presented for your viewing.
Our Client's Testimonials
I'm so happy, finally I decided to install carpet in my walk-in closet. I realized it's actually cheaper to have carpet installed than buying an area rug from the stores.  This is so much better.
Purchasing blinds online was a breeze! Living in Boracay, we were delighted to find a local website that accepts an out-of-town order, provides easy-to-follow instructions on how to accurately measure windows, and saves us the trouble of transporting the items ourselves. (more…)
Glenn & Noela Buchfeller
Boracay
I have lived in the Philippines for 8 years now (British expat) and it's very rare for business here to have a well designed and easy to use website as your is. Also I'm happy with the service and quality of the workmanship that you have given us in our dealings. (more…)
Excellent Service, reasonable price and durable!
Cynthia O'Sullivan
Nasugbu, Batangas
FREE Installation of blinds or curtains for orders above Php 5,000 within Metro Manila!
So call now at 8-403-3262 or 8-893-1373 or email us at inquiry@dswindows.com!
Purchase Now