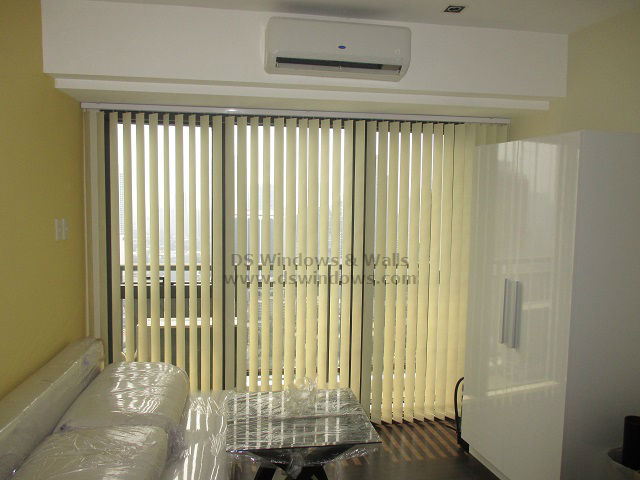 When it comes to condo unit a large or a wall of windows are one of the most striking features of condo design and also the most challenging to decorate. Because of the large size of the windows more sunlight can enter your room that can be harmful for the furniture and the people as well. There truly are many types of blinds, shades, panel and drapery products available for the sun-drenched large condo glass windows and doors like our client in Madaluyong City who choose to install Blackout Fabric Vertical Blinds in her terrace or patio sliding door.
Vertical Blinds are well famous for being flexible to accommodate large windows and doors. It has good characteristics and functions that you will find perfect for your place. Vertical Blinds consists of vertical slats hanging from the head rail, which holds and controls their mechanical components. It can also be made with different materials such as PVC or fabric. For our client, she chooses to use blackout fabric vertical to prevent sunlight from entering her living room. Because her glass door is facing directly in the midday sun and too much sunlight isn't for her liking, she prefer to use blackout fabric vertical blinds compared to sunscreen fabric that only reduces the sunlight. Though she can also use PVC vertical blinds to block the sun, she still chooses fabric material for windows cover because it's more suitable for a home that can provide much more softer and homey atmosphere like for her living room while hard and PVC materials are much more for stiffer or formal surroundings.
Compared to horizontal and roll up blinds Vertical Blinds is the only blinds that you can customize which direction you choose your blinds to open. Whether choosing the one way type, wherein the slats move in one direction when opening and closing or the split type where the blinds will open in the middle with half of the slats going to each side and close it where the slats are coming from both sides and meet in the middle. Our client chooses the split type Fabric Vertical Blinds for her glass door because it gives a more striking and grand impact while opening and closing.
DS Windows & Wall Interior Supply allows our client to choose between one way and split type opening for their PVC or Fabric Vertical Blinds without additional charges. For more inquiry please email us at inquiry@dswindows.com or call us at (02) 403-3262, (02) 668-9668, (02)893-1373 and 0916-311-3909. You can also visit our shop located at 4th level Waltermart Makati, 3rd level Robinson Metro East Pasig City and 2nd level Pacific Mall Lucena City.
Posted by Lyn
On March 27, 2015
0 Comment