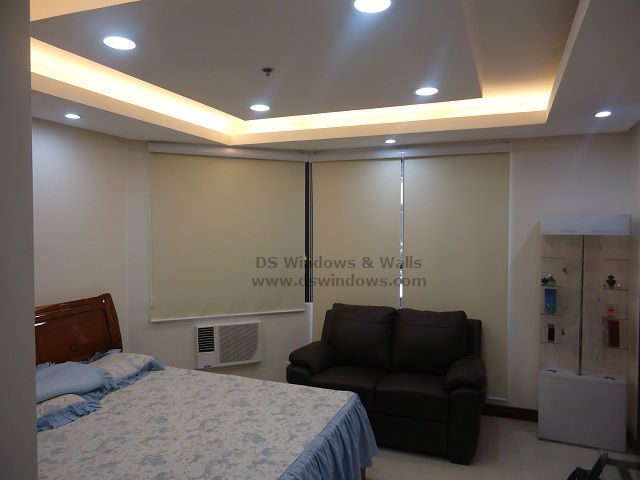 Roller Blinds has always been one of the most popular blinds despite of the fact that new types of blinds and curtain designs are offered in the market every year with unique appearance, feature and function.  Roller blinds is still one of the best selling item in our stores for both commercial and residential places.  Roller Blinds is famous for its plain fabric design that gives a sophisticated and modern look as a window treatment suited for commercial area. Roller blinds can also provide a cozy and warm atmosphere for residential space, especially when you choose the sunscreen fabric with just the right color that matches your motif you can create a beautiful and welcoming home interior.
Roller blinds also doesn't stop innovating and developing new things in appearance and performances.  Better and more unique fabric design is now available in the market with different thickness, color and openness factors to choose from.  One of the recent developments in roller blinds is the new valence design that you can choose to use rather than the common bare looking roller blinds where you can almost see the aluminum tube while the bracket and the other upper parts are all visible. With this new white valence you can hide the top part of the roller blinds that most people wish to conceal.
Our client in Atimonan, Quezon province decided to choose roller blinds with white valence for their window treatment. Roller blinds itself is classy enough, but by adding white valence your blinds look more elegant, high-class and outstanding. Our client also chooses blackout fabric roller blinds for their bedroom window cover since they value their privacy and also wanted to avoid the sunlight from entering their room. They also choose a simple, light beige color for blinds that goes perfectly blend with the other furniture and ceiling design creating a bedroom with plain design that has the air of luxury and modernity.
Roller Blinds valence has two different designs that you can choose the white valence which is powder coated to appear glossy white like our client in this article choose. The other type is the acetate valence made of a thin transparent plastic where you can insert a fabric of your choice inside the valence itself to appear just the same as the fabric that covers your window.
DS Windows & Walls is one of the leading company in providing blinds, carpet, accordion door and wallpaper. For more inquiries please call us at (02) 893-1373 / (02) 403-3262 / (02) 668-9668, 0916-311-3909 or visit our showroom at 2nd level Pacific Mall Lucena City, 3rd level Robinsons Metro East, Pasig City and 4th level Waltermart, Makati City.
Posted by Lyn
On August 14, 2015
0 Comment