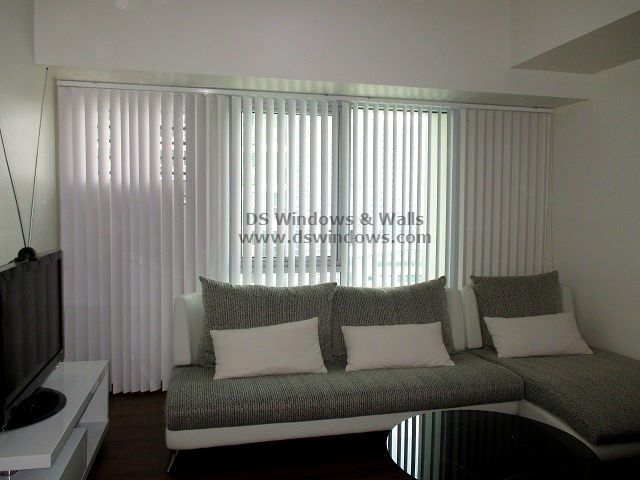 A family is a group of individuals that bonds and share affection. This is also a kind of group where every child and adult are very important to each other.  Families play an important role in our lives that affects our characters and behavior.  Good communication to each other is one of the most important way to maintain the good quality of connection of every family member.  So it is really important that your home or apartment promotes bonding and is also accommodating for important family gathering.  It is also the place that serves as a comfort zone in each family member where they share their stories, opinions and feeling to each and everyone.
Our client from Bel-Air, Makati City, who is a good father / husband and a great provider to his family transforms their home into a nice functional living room.  In order to make their place more refreshing and inviting they decided to opt for PVC vertical blinds and selected white color same color with their ceiling and walls.  PVC vertical blinds were chosen also since it is easier to maintain especially if every family member is busy and that they don't have the time to clean their house often.  Since it is slanted vertically, PVC vertical blinds consumes less dusts compare to the horizontal and fabric blinds.  The white color of PVC vertical blinds made their living room look neat and it perfectly complements their living room as well as enhances the stylish look of their sofa set and other furniture.
When there are visitors or if there is an important family event, the PVC vertical blinds can be pulled all the way to the sides so that guests can roam around in and out of the patio or the house.  That's why for a functional family apartment, one of best alternative is PVC vertical blinds as it is one of the best in terms of ease of use and practicality.
DS Windows and Walls offer different varieties of window blinds, PVC folding doors, wallpapers and carpets. For more samples and swatches of our products you may visit our store located at 4th level Waltermart, Makati City, 3rd level Robinson Metro East, Pasig City and 2nd level Pacific Mall, Lucena City. You can also visit our webstore at www.angryblinds.com.ph or call us at (02) 403-3262 / (02) 668-9668 / (02) 893-1373 and 0916-311-3909.
Posted by Lyn
On November 6, 2014
0 Comment