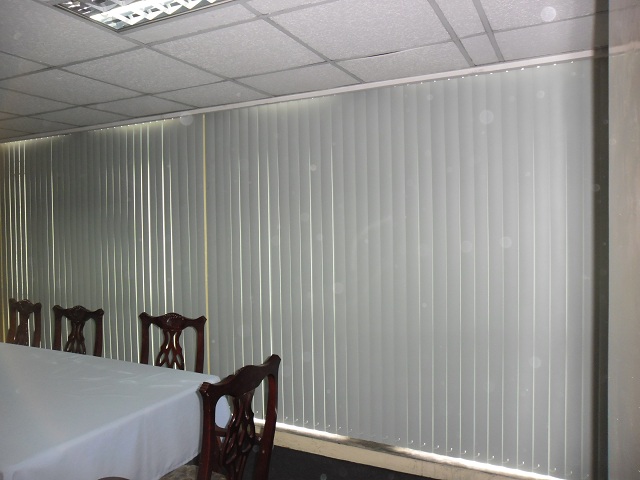 The conference room is a formal and disciplined area used for meetings, brainstorming and discussion, mostly done by a large group of people (boss and its employees). It is also a place where participants can interact, suggest and enhance their ideas and communication skills for the progress of its company.
A long table and chairs in the surroundings are generally seen in the conference area. A conference room in most buildings commonly has a high and wide glass wall, covered by blinds. Most designers and owners complement its idea for using PVC vertical blinds in a conference room so they can control the light entering in the said room, especially if there are important occasions like meetings and discussions that audio visual equipment's are present.
DS Windows and Walls provide Custom PVC vertical blinds that are durable and can match a modern decor in most offices at the same time blend perfectly into a traditional or corresponding setting depending on the material and colour used. With PVC Vertical blinds, you can adjust the appropriate degree of light entering especially in a conference room where most people are stress and serious discussing important matters about the company.
Blinds is important for individuals working in an office who need to control the glare of the computer screen or need some privacy to think some ideas that can help for  the company's better development. If you're planning to buy blinds for your establishments, visit DS Windows and Walls Interior Supply. We are located at 4th level Waltermart Pasong Tamo, Makati and 3rd level Robinson's Metro East, Pasig City. For inquiries, visit our website at www.dswindows.com or email us at inquiriy@dswindows.com. You can also call us at (02) 403-3262 / (02) 893 1373 / 0916-311-3909.
Posted by nenaragonot
On June 25, 2012
0 Comment