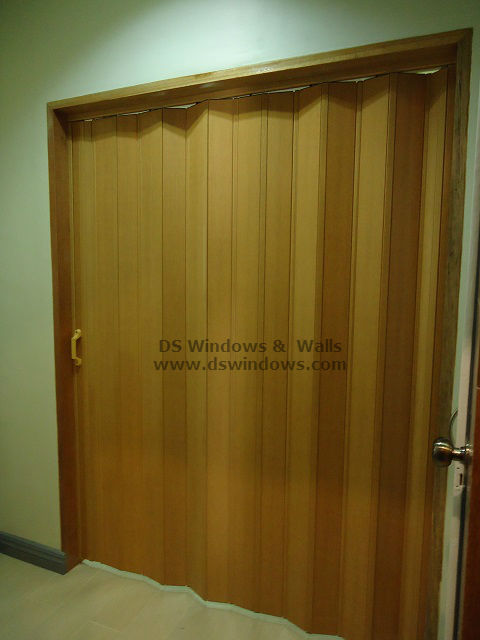 It's every girls dream to have her own walk in closet that full of clothes, accessories, bags and shoes. And one of our clients in Tagaytay Heights is fulfilling her wish to have her own special shoe shelves. Young women do tend to own more shoes compare to boys and the best way organize them is to put them in a safe place like your own shoe shelves to keep it clean and prolong its lifespan.
The size of our client shoe shelve is probably eight to ten square feet in size, which means a very limited space when you're stepping inside and getting one of your shoes. That's why our client prefers to install PVC Accordion Door to save space and to add a design for her shoe closet. Accordion door is known as the best space saver door perfect for small room and walk in closet, including shoe cabinet in a very affordable price.  We customize the size of your accordion doors according to the size of your frame opening.  You can choose between the wide (deluxe) or narrow panels (regular), the thick (deluxe) or thin (regular) panels.  There are also a lot of colors to choose from.
PVC Accordion door is a series of hinged vertical panels fold on themselves to the side when open and take up no outside space. It's the best choice door in incredibly cramped space like a closet, bathroom or any limited space. When it comes to color and design PVC Accordion Door can imitate the image of a real wood like Light Oak that our client chooses.
For more inquiry please email us at inquiry@dswindows.com or call us at (02) 403-3262, (02) 668-9668, (02)893-1373 and 0916-311-3909. You can also visit our shop located at 4th level Waltermart Makati, 3rd level Robinson Metro East Pasig City and 2nd level Pacific Mall Lucena City.
Posted by Lyn
On October 15, 2014
0 Comment