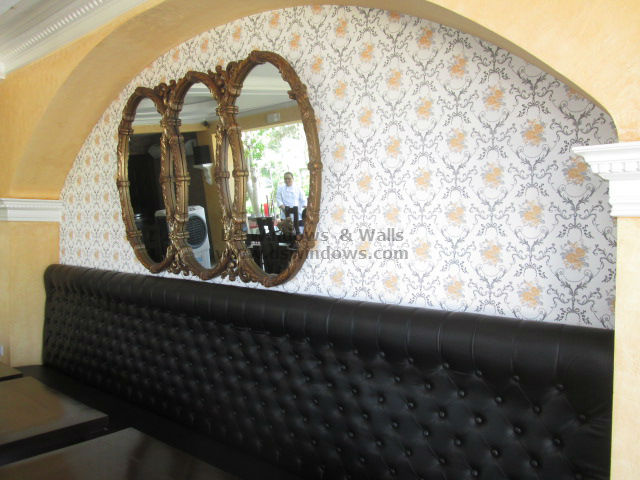 The most important thing when it comes to coffee shops, cafes or espresso bar is the coffee itself the quality of the beans and the craft of the barista. But there are instances when the atmosphere of the shop comes first, for example, when someone is new and unfamiliar with the place and looking for a cup of coffee the appearance will surely get the attention of that customer to come inside your coffee shop.
In a business full of competitors such as coffee shops, designers have an important role and somewhat difficult job in creating a unique atmosphere and at the same time fresh, clever and comfortable that's unique preferably one that cannot be found in other shops. The evolving culture of the coffee shop is fast as any other establishment in terms of style, color, furniture and many more.
Using unique interiors and playing with color scheming theme, our clients from Tomas Morato Quezon City was able to create a coffee bar that helps grab the attention of consumers.  Quezon City is a place that's full of coffee bar and tea shop in every corner so our client wanted to use different concepts for its design. With the use of black and gold as the dominant color and a touch of royal and majestic appearance he cleverly achieved what he wanted.  And one of the best way and easy way to achieve this is to use patterned vinyl wallpapers that is available with a wide range of colors and designs.
Our client decided to use wallpaper with the design of damask that match the look of royalty and with the touch of color black and gold. They also add a light gold arch wall to emphasize and add attraction to the wall design and use big gold mirrors as the center piece. For the furniture they use black tables and chairs that make the place look more grand and luxurious.
Damask Wallpaper pattern has always been the perfect style for royal design wall. The majestic look plus the powerful influence it has to the surroundings makes it grander and striking. Black and gold is always a strong color and sometimes not easy to match with each other, but since our client is using majestic theme, using these colors are perfect justification of the concept and helps to get more attraction to potential customers.
DS Windows & Walls is one of the leading company in providing blinds, carpet, accordion door and wallpaper. When it comes to providing the best interior supply for your home, we can guarantee to offer our client best quality of our product and services to satisfy the needs and wants of all our customers. We can offer different type of blinds for window treatment, wallpaper for the wall covering and carpet for flooring. For more inquiries please call us at (02) 893-1373 / (02) 403-3262 / (02) 668-9668 / 0916-311-3909 or visit our showroom at 2nd level Pacific Mall Lucena City, 3rd level Robinsons Metro East, Pasig City and 4th level Waltermart, Makati City.
Posted by Lyn
On July 10, 2015
0 Comment