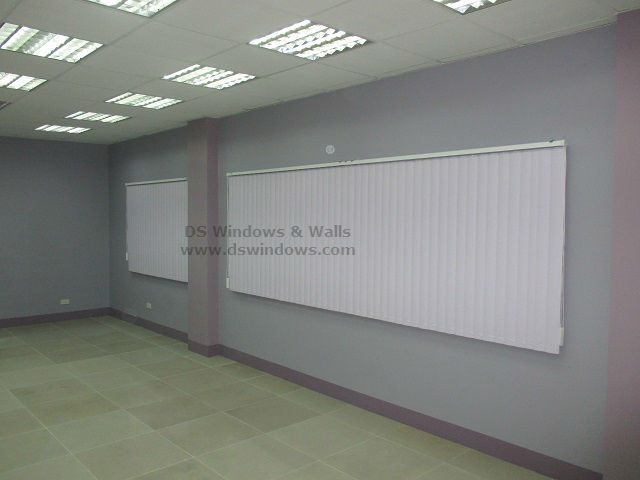 When renting a new office one challenging task that we all need to face is how do we makeover the place to suit our needs and style?  Sometimes, especially if we are in a tight budget, we usually leave the walls and the flooring as it is.  But one thing that we really need to replace and think about is the window blinds or shades since it is something that the old tenant usually takes with them unlike wallpapers and ceramic tiles.
When doing a small makeover for a new office one of the most practical and cost effective blinds in the market is the vertical blinds.  It comes with two types namely the fabric and the PVC type. However, before you can decide between these two styles, it helps to understand the difference between fabric and PVC types and the pros and cons of each. This article will help you decide between the two and help you choose the suitable blinds for you.
Fabric Vertical Blinds is one of the best choices for window cover that offers a wide variety of colors and texture providing more style options for your window.  It can also provide some degree of privacy and light filtering. Some of fabric vertical blinds are also cellular an excellent choice if you want to add additional insulation for regulating light and blocking out the sun. Plus the soft fabric slats add a softer touch to the décor and provide quieter operation since the slats are lighter compared to PVC so you can freely move your window cover without distracting others.
PVC Vertical Blinds on the other hand is also a fantastic window cover.  In terms of design, it's highly decorative and come in a large assortment of beautiful colors and patterns. Unlike the fabric vertical blinds, PVC type provides full privacy and completely blackout from the sun and outside view.  With the materials of PVC maintenance become much easier with cleaning with damp cloth you can effortlessly remove unwanted dust.
With this knowledge our client in Global City, Taguig favored using PVC Vertical Blinds for their new window treatment. Vertical blinds add an attractive interest to their windows as part of the decoration in the office. Plus with the benefits of providing sun and heat protection helps the employees feel more comfortable and relax while working helping to brighten up the atmosphere of the entire room.
Also renting a commercial office can be temporary, the owners might decide to move to other leased spaces due to down-sizing or business growth.  Using PVC Vertical Blinds can be a smart choice since it's durable and long lasting you can also reuse it in case you move to a new office location.  Its color also doesn't fade so it can always look brand new every time you move to a new office.
DS Windows & Walls is one of the leading company in providing blinds, carpet, accordion door and wallpaper. For more inquiries please call us at (02) 893-1373 / (02) 403-3262 / 0916-311-3909 or visit our showroom at 2nd level Pacific Mall Lucena City, 3rd level Robinsons Metro East, Pasig City and 4th level Waltermart, Makati City.
Posted by Lyn
On June 23, 2015
0 Comment