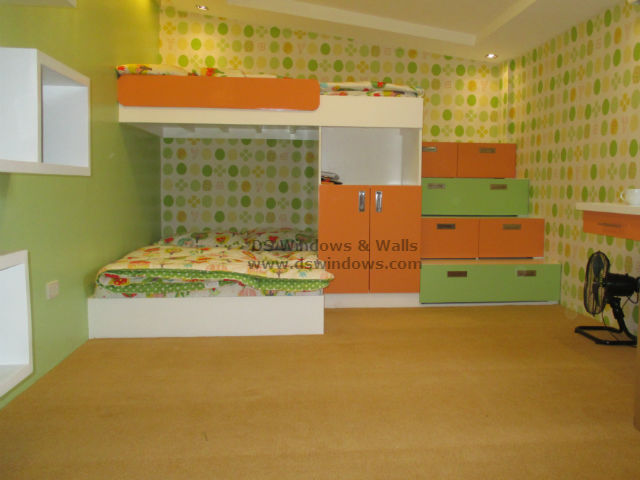 Most people find it fun to design and beautify a child's bedroom. Finding the most enjoyable, comforting and vibrant color and furniture for the kids is always challenging yet entertaining. There are a lot of different choices out in the market today that's made it easy and hard to choose from. Achieving which is the good furniture and color that will go along with each other for your child's room are sometimes confusing.  The fact that this room is also an attic loft type bedroom design makes it more challenging and fun to design.
One of our clients in Marikina City who redesign her child's bedroom creates something unique and fascinating design that not only the kids, but also the adult would be amazed with the outcome of the child's bedroom. Firstly, her child's room is in the attic, which is already creative and productive. She also uses a unique double deck bed with cabinet stair for saving space and for a unique look. For the color coordination she chooses to use green, orange and yellow that dominates the room. She availed wallpaper with patterned design where the color that rule is a combination of green and yellow.  For the flooring she availed a carpet with a color of glittering light orange appearance. The child bedroom is colorful and collaborates with each other perfectly that bring comfort and cool look. The brilliant color combination of the beds, carpet and wall covering are exciting and set an exciting tone for a child's bedroom.
The wallpaper our client chooses has a great way in dressing up her child's room, delivering simplicity with a punch of character that paint cannot express. Wallpaper is the only wall covering that can make your room appear more realistic and stunning with just the wallpaper itself. When it comes to more creative look wallpaper has a lot of different design and color that can fit into any of your motif either it's for Victorian, modern, tradition or a fun looking room for children's wallpaper has it all.
DS Windows & Walls is one of the leading company in providing blinds, carpet, accordion door and wallpaper. When it comes to providing the best interior supply for your home, we can guarantee to offer our client best quality of our product and services to satisfy the needs and wants of all our customers. We can offer different type of blinds for window treatment, wallpaper for the wall covering and carpet for flooring. For more inquiries please call us at (02) 893-1373 / (02) 403-3262 / 0916-311-3909 or visit our showroom at 2nd level Pacific Mall Lucena City, 3rd level Robinsons Metro East, Pasig City and 4th level Waltermart, Makati City.
Posted by Lyn
On January 24, 2015
0 Comment