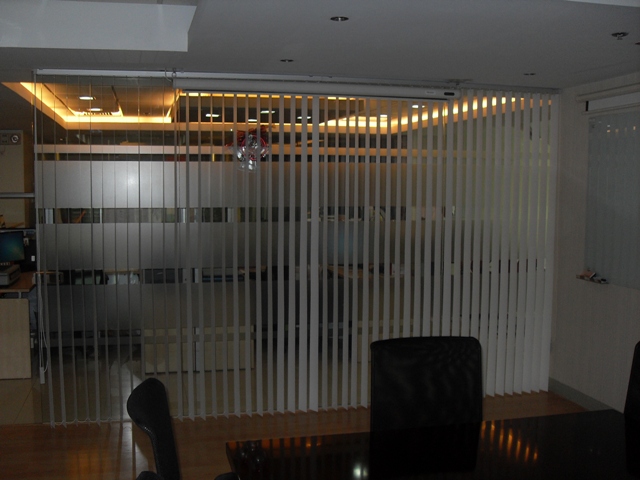 Some clients are creative in the uses of their window blinds.  For this particular office client at Quezon City they have used the PVC Vertical Blinds not for windows nor for patio doors but as a divider for their office for privacy during meetings.
During important office meetings and conferences, they pull-out the vertical blinds from the sides and close the vanes for privacy but when there's no office meetings this vertical blinds will be pulled from the side as if no vertical blinds exist maximizing their office space. In other words, this vertical blinds is not only used for outside privacy but also for privacy inside the office.
Perhaps another important benefit of using PVC Vertical blinds is that they don't catch dust as easily as horizontal blinds. This is because the slats don't offer any horizontal surface for the dust to rest on, where it can attach itself into the material over time. Instead, the vertical surfaces are much more likely to reject the dirt and dust before it can become attached into the surface.
Another useful aspect of PVC Vertical blinds is how they interact with the wind. Horizontal blinds are more likely to get blown around and damaged by strong blast of wind. This is because how the blinds area attach firmly together, with each slat being bound to the one above and below it at both ends and sometimes at various points in between. With PVC Vertical blinds though, the blinds are only fastened at one end, and then only to the in a cross direction. This means that the blinds are more easily able to move independent of each other, putting less stress on the blinds as a whole.
PVC Vertical blinds has the ability for the slats to move independent of each other is also useful for leaving blinds down across doorways. With PVC Vertical blinds, you can simply walk through the blinds whenever you want, without having to draw them to the side. If you try that with horizontal or roll up blinds, you are sure to run into problems since the slats can't move independently of each other.

For Quezon City client, DS Windows & Walls has a new branch at the 3rd Level of Robinsons Metro East in front of "body senses" area that you can visit to see the wide selections of window blinds for your home or office.
You can also visit the 4th Floor of  Waltermart Center, Makati City and for more queries you can reach us at 403-3262 & 893-1373 and you can also reach us via mobile at 0916-311-3909. For FREE Quotation you can email us at inquiry@dswindows.com we do FREE Estimate within Metro Manila Areas.
Posted by charissevizcarra
On March 17, 2012
0 Comment