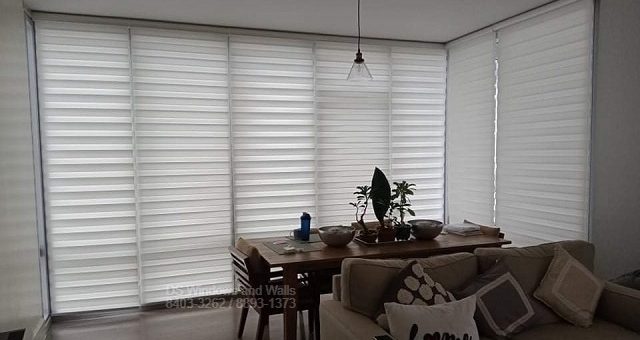 With its alternating sheer and solid parts, LOSA combi blinds are essentially appropriate for frequent light adjustment and varying heat intake preferences of clients. In today's article, we shall be uncovering the specifications, types and designs of our LOSA combi blinds and see how well it goes with varying interior preferences of customers.
First on today's list of LOSA blinds models is the Natural or Basic Cover. Its solid and sheer part measures 75 mm and 50 mm respectively. From this, we can deduce that its solid part is larger in proportion than its mesh part which makes such a model appropriate for blocking too much sunlight. It is also to be noted that its sunlight blocking is at 75.80% and its ultraviolet blocking properties is at 99%. This model can also be counted on to be durable because its color fastness is graded at above 4. This means its colors cannot be easily washed off. It is available in large ranging colors from neutral shades such as white, ivory, caramel, brown and gray to cool colors of blue, jade, green and to more fun, daring colors of orange, yellow and red.
The same properties and measurements goes for the model Vega which is available in the neutral shades of white, beige, brown, dark brown, gray and green. The same can be said with the model Linen which takes the neutral colors white, ivory, beige and green. The Losa Wood model also contains the same measurements with its own set of off-white and wood-like colors of ivory, beige, fustic wood, maple and teak.
The Mono model only differs in solar blocking properties which is higher at 83.80% but contains the same measures for solid and sheer parts as the aforementioned. The Trilogy model which is at 79.70% sunblock properties comes at more fun colors of blue, green and pink. Lastly, the Silk type of LOSA blinds, also at 75 mm solid and 50 mm mesh, has available neutral colors of white, beige and blue.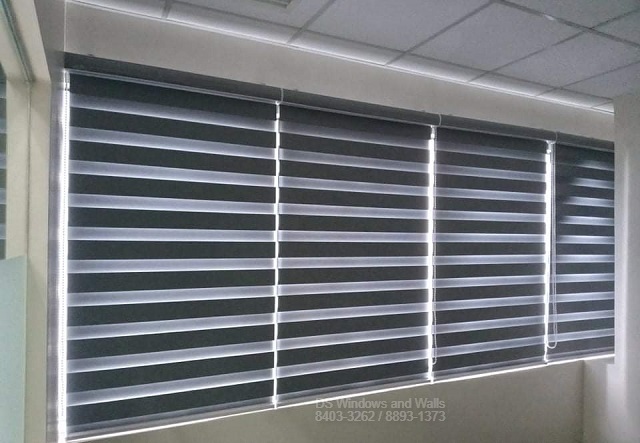 Above is an example of our P505 Gray LOSA blinds installation. With the larger portion of solid material, these blinds are perfect for blocking off sunlight in the office and shielding room spacers from intense heat. It also helped make the room look cooler with its neutral color and design.
The next set of LOSA blinds models are wider in its sheer and blockout proportions. Let's start off with the Kingswood model which has a 100 mm solid part and 70 mm mesh. Compared to the previous types, its color fastness is at above grade 7 which makes such models low in maintenance and more long-lasting. The Kingswood model is also available in off-white and wood colors such as forest, khaki, teak, greenwood and green.
Expanding this set with wider solid and sheer models, we have the Crescendo model. This model has solid 150 mm and mesh 100 mm, sun blocking properties of 84.60% and above grade 4 color fastness. Such types are also available at varying colors of teak, blue, forest, green and pink. Below is an example of the teak crescendo blinds installed for one of our clients.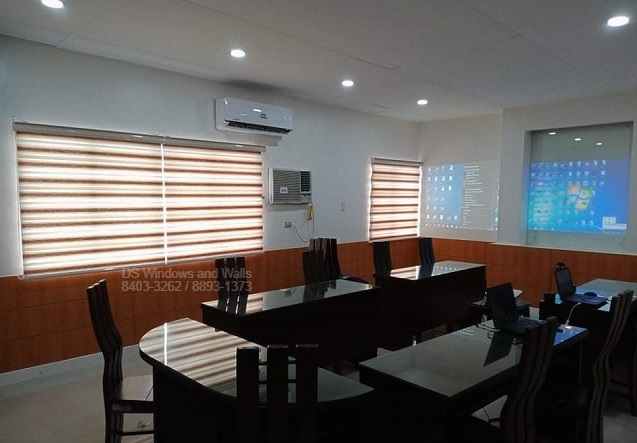 This C601 teak LOSA blinds installed in an office went well with the furniture of our client. Although the picture shows that the client opted to use it by alternating the sheer and solid part to let more light in, the blinds would also be very useful with its wider solid parts on, especially during company presentations and meetings.
The Wider model also has 150 mm solid and 100 mm sheer in proportion and above grade 4 color fastness. Its colors of ivory, beige, forest, brown, gray, teak, greenwood and choco are best fitting for interiors with furniture or to complement plain and minimal ones.
Although short in solar blocking materials at only 78.20%, the Pleated model is wider in solid parts at 145 mm and sheer parts at 95 mm. The Elegancy model is almost the same at solid 140 mm and mesh 100 mm, also with 78.20% solar blocking properties and above grade 4 color fastness. These are available also in neutral and off-white shades. The same properties goes for the Pinova model.
Still in the same category of wide mesh and solid parts, we also have the Vanity model with 180 mm solid and 140 mm mesh with solar blocking properties at 83.80% with an above grade 4 color fastness. These types are good if clients prefer that sunlight be blocked more. Also unique to this model is that it has patterns in the colors beige, khaki, gray and wine.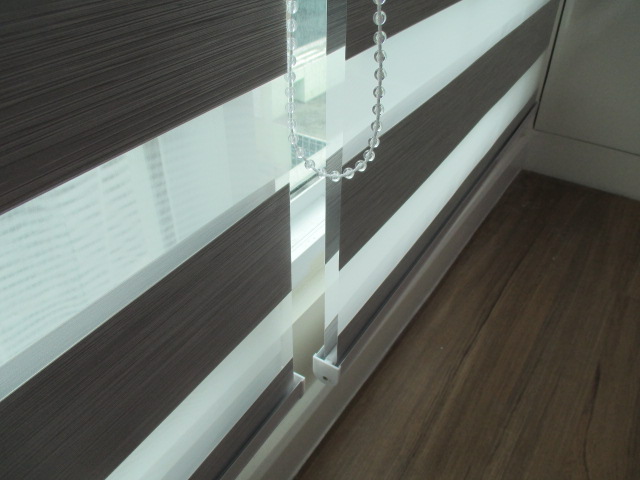 Adding to the variations in today's article, we also have models which have a sheer blackout sheet aside from its alternating mesh and solid fabric. Included in this set is the Picasso Blackout Premium which ranges from the lighter shades of cream, beige and khaki to the darker shade of brown. The Luxury model is available in a set of varied shades like white, brown and green. The Hannover Blackout Premium which has solid 85 mm and mesh 55 mm has the colors ivory, green, brown, choco and wine. Lastly, the Majesty model which is at above grade 7 color fastness has darker shades of brown, gray and green.
For models with less than usual designs, we have the Checker model which has checkered patterns and is particolored. The Curves model is slightly different from the usual blinds because its mesh part is almost transparent, therefore appropriate if a customer prefers more light in the room. The Pleat and Twist model can be pleated or twisted to give an interior a slightly different but elegant look. This is available in the colors white, beige, khaki, brown and forest.  

All the other available details and colors of the aforementioned models is available in the Combi Blinds section of this link: https://www.carpet.com.ph/.
Posted by Jessica Hernandez
On May 10, 2022
0 Comment