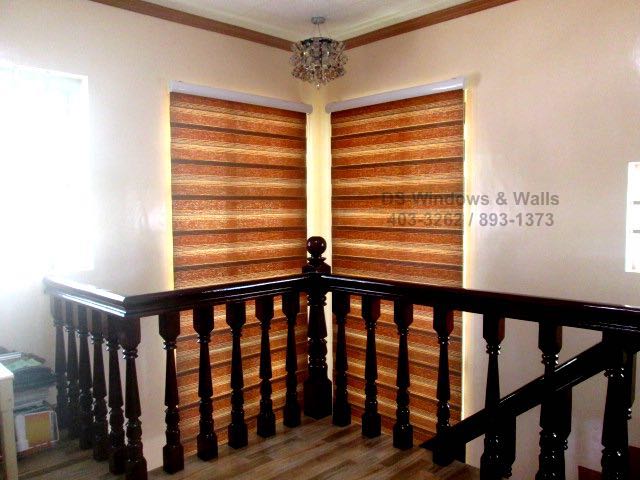 In the world of window blinds, Combi Blinds are the newest trend today.  It has a unique alternating strips fabric that compose of solid and sheer part that can be adjusted for you to control the amount of sunlight that can enter your room. With the popularity of Combi blinds nowadays it is only natural to manufacture periodically new series of designs to offer a variety of choices and accommodate the client needs.
In DS Windows & Walls we offer numerous Combi blind designs like Rocky Pleated, Rocky I, II, and III Series, Elegance, Wider and more. In this article we're going to focus on Losa G400 Wider Series that is 6 inches wider on its solid fabric part while the regular combi blinds only have 3 inches solid part.  In terms of fabric design G400 Wider Combi blinds don't have much difference compared to the regular Combi blinds except for the fact that its solid part became wider.  Other than that nothing changed much but its impact in your window is striking especially for tall and/or high windows.
Notice the first and second photos compared to the third as you can see the first two pictures is from our client who chose G404 Teak from Losa G400 Wider Combi Blinds Series while the third picture is a regular series combi blind. When installing a regular combi blinds in high windows you'll get more stripes on your blinds while if you choose G400 Wider Series the alternation of the solid and sheer part is reduced because of the wider size of the solid fabric.
G400 Wider Combi blinds series is especially made to fit high windows such as floor to ceiling glass like the 4th and 5th pictures and windows as high as two levels of floor as you can see in the 1st and 2nd photos.  On the contrary G400 Wider Series don't suit well with smaller size windows because the stripe gets fewer and it can appear short and scanty on a normal window size.  Regular/standard combi blind size will be a better choice rather than the wider series in this case.
Like any other Combi Blinds Series, G400 Wider is also available in different colors that can complement any wall and furniture color and can match any room motif. G400 Wider Series is a fashionable and functional window blinds that can be used in every part of your home and also look well in any modern commercial space.  It's durable, easy to maintain and helps to liven up the atmosphere in the room.
For more inquiries please call us at (02) 893-1373 / (02) 403-3262 / (02) 668-9668 / 0916-311-3909 or visit our showroom at 2nd level Pacific Mall Lucena City, 3rd level Robinsons Metro East, Pasig City and 4th level Waltermart, Makati City.
Posted by Melissa Arceo
On January 19, 2016
0 Comment