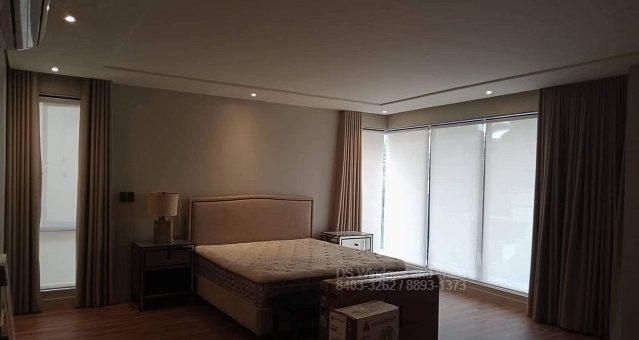 More often than not, one would think that acquiring either curtains or roller blinds would be enough for their desired purpose. It is understandable and of course convenient, to choose only one of the two. In today's feature, however, we shall dive into the pretty but functional combination of blackout curtains and roller blinds for our Mandaluyong Project. Unusual as it is, we shall venture into such combination's benefits and into the convenience of its use.
Structured as tightly-woven and double-lined, blackout curtains are designed to completely block off light from entering the household. These are appropriate to use when it comes to bedrooms or offices that require privacy for its spacers. Because such traits are present in blackout curtains, they don't always need to be black or dark in color. Clients can still opt for brighter shades without compromising the purpose of the blackout covers.
Roller blinds on the other hand, are composed of a fabric attached to a casing on top. This has a cord which allows the rolling down or rolling up mechanism of such blinds. The fabric of these roller blinds may be single or a dual mechanism. It is single when there is only one type of fabric that provides a certain amount of sunlight protection for a room. Dual mechanism ones have sheer and solid fabric which allows more flexibility in use and sunlight intake.
As established earlier, this combination is still new to the eyes of customers. Still, it stands true that such provide benefits not present in other types of mix and matches of blinds. To point out one of the benefits of this combination, let us dig into the convenience of curtains. Such drapes build up the illusion of a high-ceiling room and make it look more spacious. It also frames our view of both the interior and of the view outside. This cannot be seen nor is it highlighted with other blinds combinations.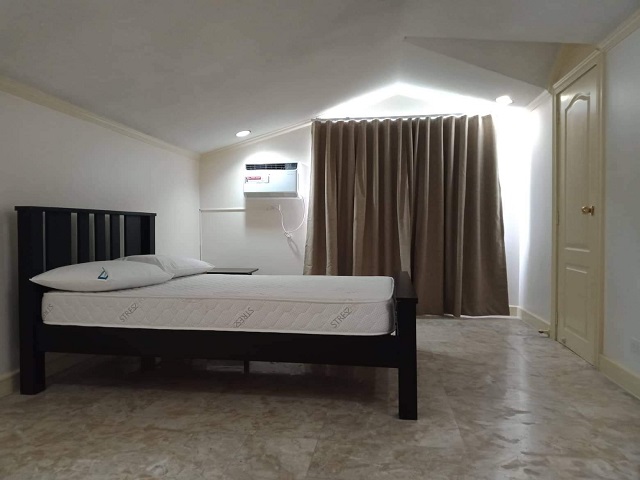 Now we see that a combination of these two is possible and productive as per our Mandaluyong installation. The sheer roller blinds fabric provided just enough sunlight for the bedroom space and it may still be adjusted as according to the client's preferences. The blackout curtains will be maximized more during night time to provide privacy and security for the house owners. It is also notable that the installation of the roller blinds for the small work area or table is also fruitful as this can allow natural sunlight to enter and provide less strain for the eyes.
Further, the aesthetic of the room was improved because of the combination of roller blinds and curtains. The blinds may be rolled up or down according to the preferences of the client. The curtains may be knotted or designed too. It is remarkable to point out that the off-white shade of the blinds' fabric and curtain went well with the dark cream color of the interior as such made the room look more elegant and sophisticated. Consistent with the "less is more" scheme of minimalism, it is evident how the installation of roller blinds and blackout curtain combination highlighted its use and added benefits compared to other possible combinations for the interior.
For more information on our blackout curtains and roller blinds visit our malls stores at the 4th level of Waltermart, 3rd level Robinsons Metro East or 2nd level Pacific Mall. Contact us at (02) 8403-3262, (02) 8893-1373 or 0916-311-3909. Email us at inquiry@dswindows.com.
Posted by Jessica Hernandez
On May 30, 2022
0 Comment