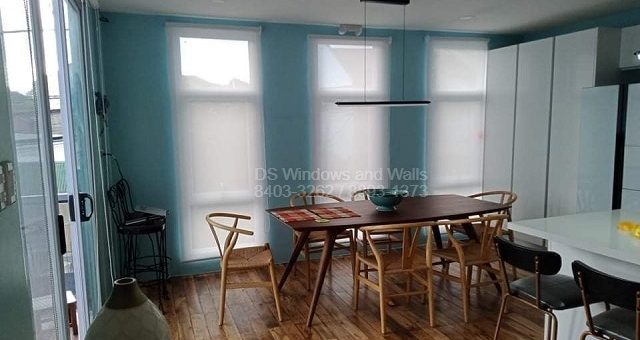 Neat-looking, convenient and hassle-free to use. Contemporary times require contemporary solutions. These roll-up blinds for today's feature provide a modern quick fix for covering up target areas in your household. Venture into our Quezon City installation of roll-up blinds applicable to the kitchen, staircase window, living room and/or bedroom of your home.
Hence its name, roll-up blinds consist of a single fabric that can be rolled and unrolled from a top casing or channel through pulling a cord located at either the bottom or on the side. This form itself makes these kinds of blinds very easy to use and manage, especially if your home has children and/or pets.
As compared to other types of blinds, roll-up blinds are said to be the most cost-effective and require the least maintenance. Unlike vertical and horizontal blinds, these roller blinds do not have slats or multiple panels that maintenance workers take some time cleaning. It is also cheaper compared to such because of its simplicity in structure and in use.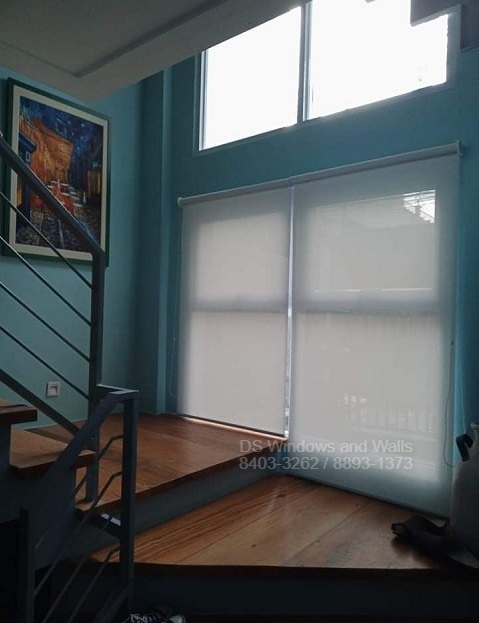 Aside from its evident satisfactory use, roll-up blinds also largely contribute to an interior's aesthetic. These come in a variety of styles and sizes, making it a perfect fit to any part of a room or interior. If a window or a patio door is large enough to accommodate two roll-up blinds of different styles, one may opt to do so. Roll-up blinds are usually in a sleek form which allows it to be adaptable to any preferred style of a client. Such can also be mixed and matched or layered with additional cover ups like curtains if a client wants to explore designs.
To comment on our Quezon City installation, one can first notice how well the roll-up blinds went with the client's staircase window. Roll-up blinds are customizable enough that even though the window requires different lengths to be covered up, such are able to accommodate the same. Another proof of how flexible the use of roller blinds can be.
It is also noteworthy how the roll-up blinds in this installation complemented the look of the client's kitchen. The lustrous look of the neat, white roller blinds evidently went great with the wood flooring matched with the minimal-style cabinets. The room gives an overall minimalist look from its furniture, tables and chairs and the roll-up blinds completed this style because of its sleek sophisticated appearance.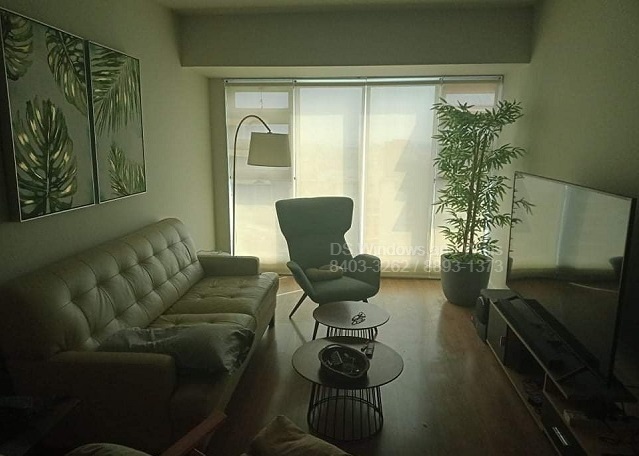 Additionally and also significantly, these blinds also showed how it can contribute to a room's lighting. As shown in the photo, the blinds gave this unique shade for the living room, that even though the sun is seemingly at its peak outside, having the comfort of roller blinds can still make an interior cooler and less humid. Not to mention, the roll-up blinds also gave way to emphasize the green touches of the plant and painting in the living room.
And it's a wrap! We do hope you enjoyed roll-up blinds as a contemporary fix for your homes. Visit our website for more of these blinds. Call us at (02) 8403-3262, (02) 8893-1373, or 0916-311-3909 or visit our mall stores for more information on roll-up blinds.
Posted by Jessica Hernandez
On March 8, 2022
0 Comment