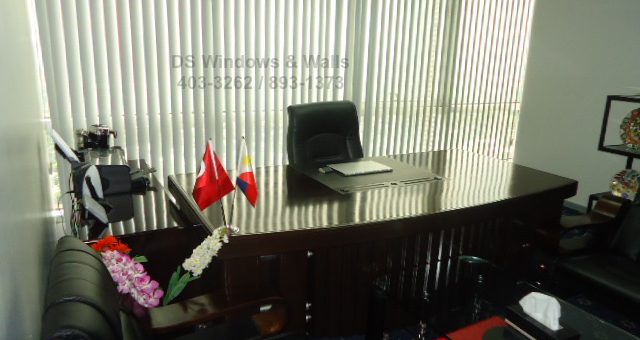 Corporate executive offices are usually rooms in a building where the top decision makers like CEO, presidents, or senior management conduct their business.  Unless the company is a startup or a small-to-medium enterprise, these rooms are typically luxurious and classy.  Our featured client here is an executive office in San Juan city that chose PVC vertical blinds compared to your typical shades like roller or combi shades, and for good reasons.
This part of the office receives ample amount of afternoon sunlight that is sometimes intense and warms up the room even if the air-conditioning is set to coldest.  The afternoon sunlight can also produce glare that can be distracting in the meeting so it is important to choose the appropriate window covering for each situation.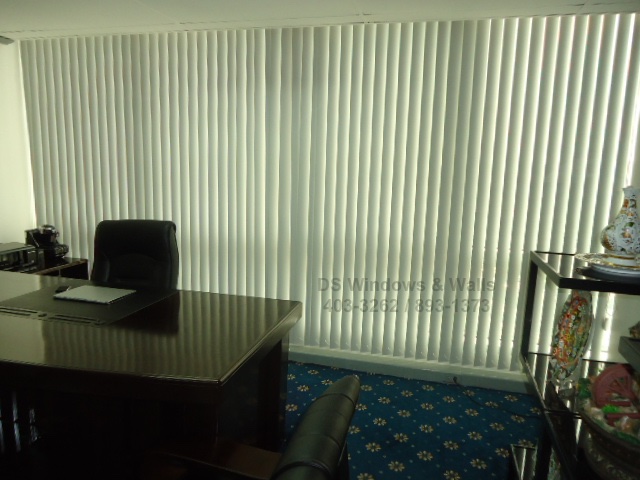 For this requirement, the PVC vertical blinds can be more suitable since this is made up of synthetic plastic polymer as opposed to fabric shades.  While fabrics can lessen the light and insulate the office from the warm blazing afternoon sunlight, some 5-3% of light can still penetrate through the fabric (depending on the openness of the material), the PVC material blocks the sunlight like no other material.  It is also better in providing heat insulation compared to sunscreen and fabric shades.
In terms of its appearance, these type of blinds are classic next to the venetian blinds.  It's vertical orientation creates illusion of more height.  If you look closely in its individual blades you'll notice that it has several beautiful embossed design and grooves.  In addition to this, compared to fabrics the PVC material has wider range of available colors due to its nature and manufacturing techniques.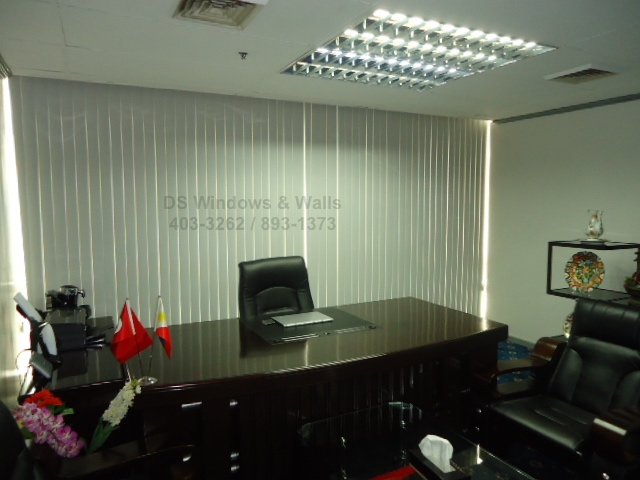 The blue elegant broadloom carpet flooring, the comfortable leather executive chairs, and the big mahogany executive desk, these vertical blinds window covering can match even the classiest type of office interior.
For more information on our vertical blinds, please visit us at our mall branches, or you may call us at (02) 403-3262, (02) 893-1373, (02) 668-9668, or 0916-311-3909.  You may also email us at inquiry@dswindows.com.
Posted by Melissa Arceo
On November 9, 2016
0 Comment