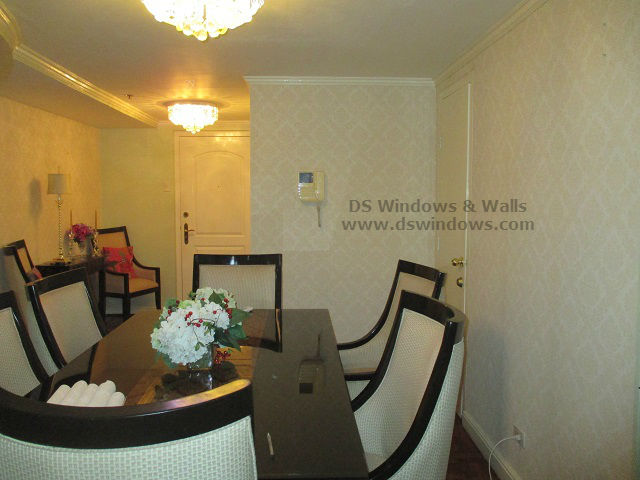 Traditional design is the equivalent of classic and when it comes to fashion it means it never goes out of style i.e. its beauty is timeless. When you get sick and tired of all the trends passing by, the traditional motif is that one style that you always go back and you'll never get bored at.  It is the all-time favorite and can manage to keep its elegance and class through the years. Our client in Las Pinas City happens to use traditional style in their formal dining room to create a comfortable feel and a stunning appearance.
There's always something lavish and luxurious about a traditional formal dining room. A marvelous rectangular wood finish table with a lot of chairs around it to accommodate the guest and a beautiful chandelier hanging down to illuminate the whole dining area and makes it cozy is the common furniture use in designing  a formal dining room. There's a lot of things you can add up to make it more grand and beautiful that can still preserve the traditional theme.
One of the smart ideas that our client adds in her traditional style dining room is installing vinyl wallpaper with damask pattern. Damask wallpaper is a pattern that uses a duplicating stylizes like textiles from floral, foliage or swag design with usually monochromatic color means using a color from a single base hue and extended using its tones. Damask wallpaper is synonymous with lavishness and sophisticated style. It brings a timeless beauty to the walls and it is at home in any decor style from traditional elegance to the sophisticated modern theme. Damask wallpaper can be used to decorate the entire room or to create a stunning accent wall, and has a suitable design for every room from the lounge, bedroom to dining area.
For our client installing damask wallpaper in her entire dining room walls produce a more powerful and grand appearance. It creates the perfect ambiance that matches a formal dining room and brings a dynamic change for a traditional theme. They also favor a lighter color for damask wallpaper that help to make the room look brighter yet cozy because of the yellowing glow comes from the chandelier. Using damask paper for a traditional formal dining area preserve and enhance at the same time it class, elegance and timeless beauty.
Wallpaper has lots of different pattern design and color that can match different home motif suitable in every part of the house. For more inquiries please call us at (02) 893-1373 / (02) 403-3262 / 0916-311-3909 or visit our showroom at 2nd level Pacific Mall Lucena City, 3rd level Robinsons Metro East, Pasig City and 4th level Waltermart, Makati City.
Posted by Lyn
On November 11, 2015
0 Comment