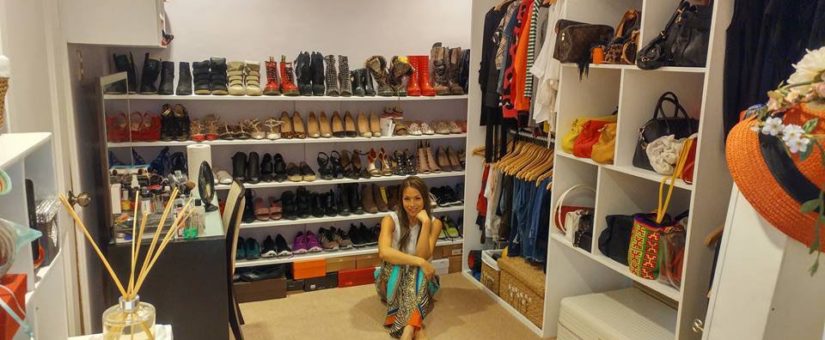 For more than a decade, DS Windows and Walls have been a provider of customized window blinds, carpets, wallpaper and other home improvement and interior decoration products. It is not unusual for us to bump into some celebrities or famous people once in awhile but some of them sticks.
One of the celebrity client that really made us happy to work with is Ms. Aubrey Miles as she's really adorable and gracious. She chose Korona Light Beige CR 646 for her carpet needs that perfectly matches her pretty and stylish walk-in closet.  In her Facebook account she quoted:
I'm so happy, finally I decided to install carpet in my walk-in closet. I realized it's actually cheaper to have carpet installed than buying an area rug from the stores.  This is so much better.  Checkout
www.dswindows.com
.
Before this, her flooring is wood parquet that's also nice but if you want to have a soft footing then you might want to choose a wall-to-wall carpet. This is especially true for a room like walk-in closet since in this room you're frequently barefooted when deciding for what shoes to wear. Having a carpet with underlay foam feels a lot comfortable when changing footwear. Some people will prefer carpet rugs over wall-to-wall carpet. However as Ms. Aubrey Miles posted in her facebook page, wall-to-wall carpet sometimes can be cheaper and generally looks better.
Unlike wall-to-wall carpets, rugs are only located in one portion of the room so you still need to think about the rest of the flooring.  Area rugs also doesn't have an extra underlay foam to add more cushion for a softer feel.  Depending on the carpet material and quality you choose, wall-to-wall carpet can be cheaper or more expensive.  In Aubrey's case it's cheaper.
You may follow Ms. Aubrey Miles at her Twitter account @realaubreymiles, Instagram MilesAubrey, and Facebook at Aubrey.Sandel.
For more information about our carpets please call us 403-3262, 893-1373, 668-9668 or 0916-311-3909.  You may also visit our mall branches post at our contact page.
Posted by Melissa Arceo
On January 23, 2017
0 Comment