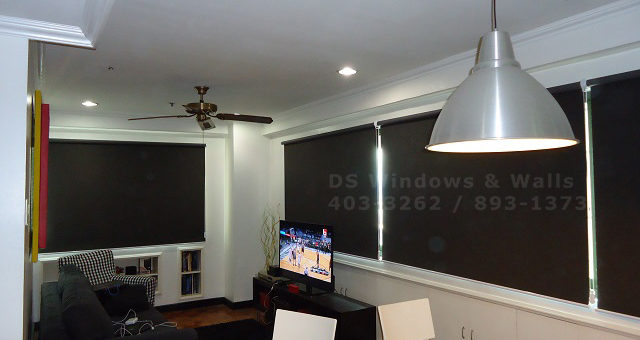 On a vacation? Tired from work? Now, who doesn't want to enjoy the nice, peaceful hours of the comfort our homes offer? Maybe even with a good movie or some virtual games for the family members to enjoy plus some excellent and isolated lighting convenient to these kind of activities. Clients who support these dark roller shades very much commends its suitability to home entertainment, may it be watching, playing or simply resting and relaxing.
Too much sunlight from the windows will surely affect the home experience negatively, whether you are watching a latest episode from your favorite TV series, playing multiplayer on your consoles with your buddies, or simply watching your most-awaited basketball game (as shown in this photo taken from Mandaluyong city client).
You can certainly try to max out the brightness from your television screens but this won't do much improvement with a strong sunlight that reflects back. This was the conflict that our clients asked to resolve making the roller blinds of utmost recommendation and the most applicable solution to this inconvenience that hinders enjoyment at home.

For this featured project, our client chose the blackout roller blinds. This type of roller blinds is the perfect product for our client not only because it completely blocks the light passing through, but also for providing full privacy and heat insulation for the room.
With roller blinds, the buyer will now fully enjoy the experience of home entertainment, whatever time of the day they decided to do these activities. Sunlight and city lights won't be a problem anymore, so that we may have the perfect movie experience just like when watching in the cinema. Complete privacy will also be provided which leads to a much relaxing ambiance that results to the best chillaxing moment with the client's family without feeling worried about inconveniences such as too much direct sunlight or lack of privacy within your own vicinity. The roller shades also gave the room a stylish and modern look with its dark color that compliments the furniture while also contrasting with the room's light wall color positively.
DS Windows & Walls is one of the leading company in providing blinds, carpet, accordion door and wallpaper. For more information of our roller blinds and to avail free estimate and quotation (if within Metro Manila) you can call us at  (02) 893-1373 / (02) 403-3262 / 0916-311-3909 or visit our showroom at 2nd level Pacific Mall Lucena City, 3rd level Robinsons Metro East, Pasig City and 4th level Waltermart, Makati City.
Posted by Jericho Libardo
On May 5, 2018
0 Comment