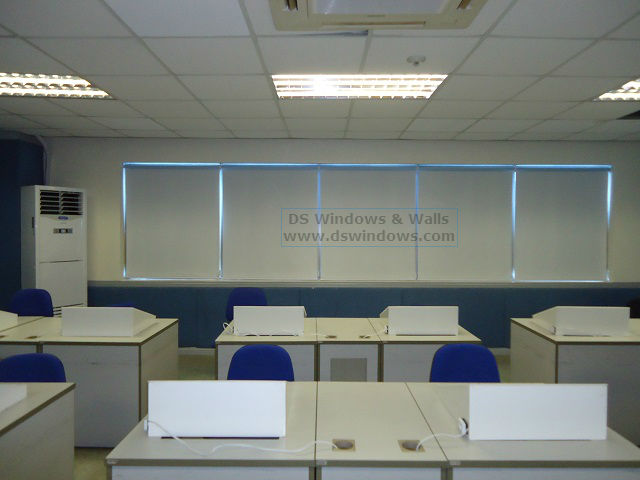 In education, creating an ideal learning environment is very important for the student's success.  Window treatment is one thing that's usually taken for granted when it comes to giving a classroom-friendly environment.  Windows can either encourage the students to improve their learning skill or can get distracted from it. And if there's one thing that everyone doesn't need is more distraction.  And it all comes down to finding the most suitable window covering to be used in the classroom, auditorium, study hall and other types of room windows.
Educational environments need light management throughout their facilities especially rooms that uses audio-visual presentation. Large windows and building orientation can make media-viewing challenging in school settings like for our client's auditorium, study hall and the regular classroom.  Auditorium usually needs room darkening when there's a performance or presentation and the best way to achieve this is by using blackout roller shades to prevent any amount of light penetration.  Study hall and classroom also commonly use video and media presentations such as LCD/LED TV or projector nowadays that also need room darkening that can be accomplished with blackout roller shades as well.
With blackout roller blinds the student will feel more comfortable because it can block the sunlight and heat that can distract the student's concentration and can also help reduce warm temperature especially in summer time. Although Blackout Roller Shades is simple and plain it still has the air of modern look that suits well with the advance technology classroom design. Roller Shades are simple yet stylish and at the same time efficient to accommodate your window treatment needs.  Fully close your window blinds if you need a darker surrounding and half open or completely up if you want a brighter surrounding.
Durability is also important when choosing a classroom window covering and roller shades are one of the best and longest lasting blinds today.  More importantly roller shades are affordable with great style that can match any type of room motif.  It's also available with different color if you want something more colorful.
DS Windows & Walls is one of the leading company in providing blinds, carpet, accordion door and wallpaper. For more inquiries please call us at (02) 893-1373 / (02) 403-3262 / 0916-311-3909 or visit our showroom at 2nd level Pacific Mall Lucena City, 3rd level Robinsons Metro East, Pasig City and 4th level Waltermart, Makati City.
Posted by Melissa Arceo
On December 16, 2015
0 Comment