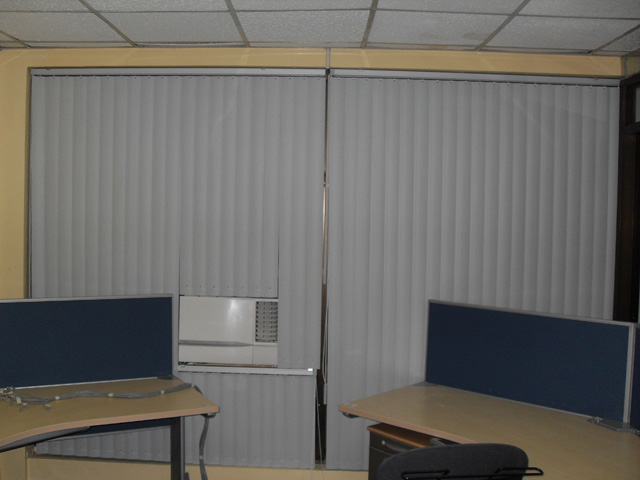 If you are looking for quality vertical blinds, you can lean on PVC Vertical Blinds of DS Windows and Walls. These vertical blinds were tested for a years providing an excellent protection against UV rays which causes inconvenience and uncomfortable feeling as well as causes damages to our furniture. These also provide complete privacy from outside through adjusting vertical slats in any position you want. PVC Vertical blinds are suitable for residential or commercial places, or else anywhere you want to block the UV rays and wishing for privacy or solitude.
PVC vertical blinds of DS Windows and Walls are readily obtainable in a huge variety of colors and designs from plain slats to decorated slats. You can have either one color in a set or different color combination, depending on your motif. PVC vertical blinds require less maintenance and very quick to clean by using only a dump cloth. It doesn't accumulate much dust for dust simply falls between vertical slats unlike horizontal slats. When having trouble with its vertical slats or should vanes break, it can easily be replaced. PVC vertical blinds are sturdy, stylish and compared to other window blinds, PVC vertical blinds are very affordable.
One of our customers from Arnaiz Ave., Makati City opted for a sprinkle S1 curve design for her office wide windows. Since PVC vertical blinds are appropriately recommended for wide windows and patio doors, these window blinds perfectly fit for her.
We customize different window sizes, big or small, to assure that blinds will suit to anybody's taste and decor.
For your questions and additional information, call us at (02) 403-3262 or 0916-311-3909, or email us at inquiry@dswindows.com. You may also visit our show room at 4th floor Waltermart Center, Makati City.
Posted by jhembadaran
On July 19, 2011
0 Comment