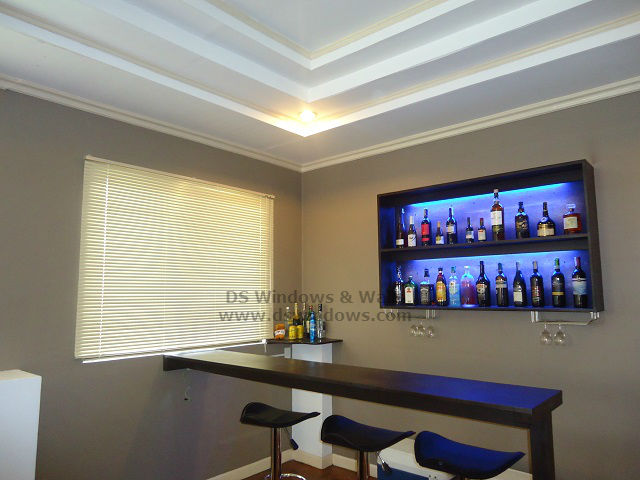 If you're the sociable type of person then there's a big chance that your living room will be the center of your home entertaining space just like our client in Makati City.  In today's article, we will be showing you a small and beautiful apartment living room design that comes along with mini bar that might inspire you to create your own one.
The living room should be the most glorious space in your home interior design since it's the first area where you can accommodate and welcome your guest. Our client who live a single lifestyle, enjoy inviting and hanging out with his friends in his home and like to show off his luxury living room design that includes a mini bar on the side. Like any usual mini bar design it comes in a form of a counter and wine rack, small refrigerator stocked with different kind of bottles of alcoholic beverages, juice, and soft drinks.  It also includes some other small snack such as chips or crackers, something that can go along with the drinks. Creating your own mini bar in your living room is a big bonus factor and comfort and makes any home interior appear more luxurious and modern which our client wanted to achieve.
Our client also uses a contemporary motif for his home and his mini bar is also included, with the use of black furniture such as a wine rack that goes with blue light, counter table and chairs that matches the sofa as well brings out a modern theme as a whole.  The gray walls also produce a modern and cozy atmosphere plus it complements the black furniture and the white venetian blinds that our client chooses to install as window treatment.
Venetian Blinds might not be everyone's first choice as a window cover when you want to have a luxurious contemporary home motif because it's too common, simple and quite old fashion blinds style. Nevertheless Venetian Blinds are durable, functional and one of the most affordable window treatment today. When it comes to the appearance it might be simple, but with the correct color choice, it can look elegant and striking. Our client who can see the great potential of venetian blinds choose to install it in his living room and mini bar windows. Choosing a bright white color contrary to the dark wall paint and furniture creates a stunning grand contemporary home design. Horizontal window blinds such as venetian blinds add a highly elegant and luxurious look to your windows with its straight and fine line.
For more inquiries please call us at (02) 893-1373 / (02) 403-3262 / 0916-311-3909 or visit our showroom at 2nd level Pacific Mall Lucena City, 3rd level Robinsons Metro East, Pasig City and 4th level Waltermart, Makati City.
Posted by Lyn
On September 12, 2015
0 Comment