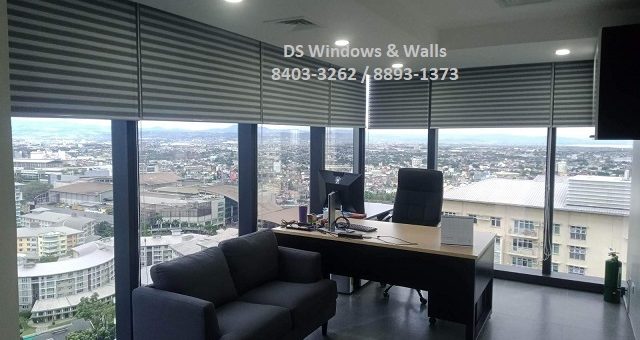 Lighting, environment, and workspace are ample but often overlooked factors when considering offices. Aside from making the office space viable for accomplishing tasks and reports, the convenience and aesthetic of its overall environment are also critical. This is why we venture today on a suggested unique style for offices, through striped roller blinds, for our Makati client. 
As we have previously defined, roller blinds are those with a single fabric or mesh rolled up or down through a particular mechanism, with a top casing that allows this to happen. These blinds are available in various sizes and colors and are considered very economical as it is also very affordable. All these given, roller blinds are also very easy to use and are durable, making their purchase and use very cost-effective. Furthermore, they are also relatively easy to clean and maintain.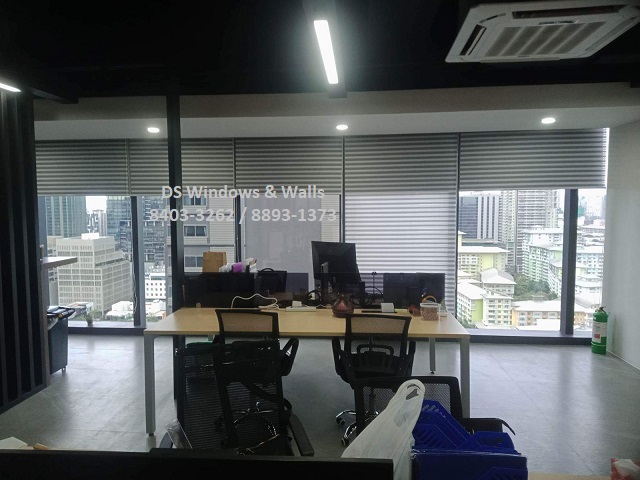 Going over today's product, the front striped roller blind is the LG06 2T-Gray, and the back blinds are the S3406 D.Gray. These two are layered to match and enhance the office space of our Makati client. Aside from the mentioned benefits of roller blinds, it is evident that they do more to the interior. The roller blinds provided a unique style to the office.
The neutral gray color of the striped front and the gray back blinds gave the office a cooler look despite it being on an elevated building floor and essentially hotter in temperature. It is also evident that the blinds and their colors matched the furniture, tables, and chairs. The striped front of the blinds allows room light control whenever natural light is needed and is deemed more convenient. On the other hand, the solid gray part provides privacy and security when room spacers require it, especially when some office matters are confidential. Another benefit of these blinds is, because of their flexibility, the employees also have access to a great city view.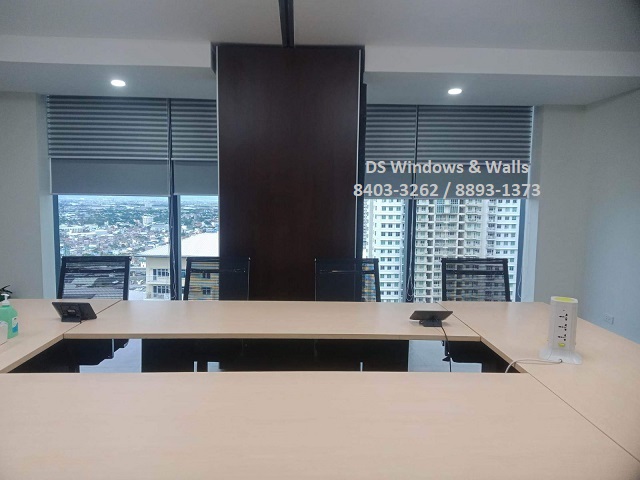 Given this, it is settled that today's feature did a great job presenting our Makati client the unique style it needs. Unique, it gave the room its identity and something to remember the office by. Because of the blinds, the overall look made the office look more aesthetically pleasing and convenient as a workspace. A good office environment helps employees be more focused, effective, and efficient in carrying out their responsibilities, allowing companies or departments to maximize operations and more office productivity.
Nothing beats a functional and aesthetic interior tool like window roller blinds. Visit this link for more blinds to choose from: https://www.dswindows.com/. 
For more information on our striped roller blinds, visit our showrooms or call us at (02)8893-1373, (02)8403-3262, 0916-311-3909. Email us at inquiry@dswindows.com.
Posted by Jessica Hernandez
On January 26, 2023
0 Comment