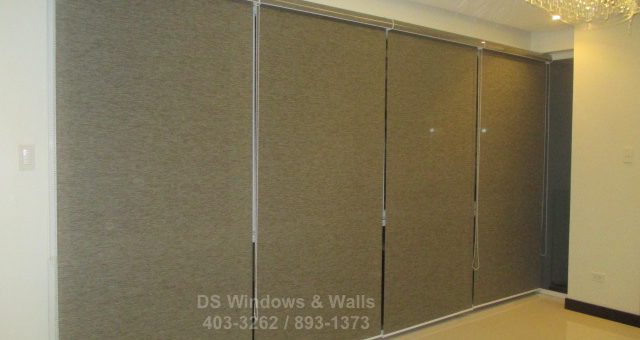 Our roller blinds are highly customizable and can be purchased with valence that is available in two kinds i.e. one using acetate so that the valence color matches the fabric color and the other is just glossy white.  There are many other available customization options (such as the material for the chain and bottom tube) for these type of blinds but is not included in the scope of this article.
Acetate Valence
Acetate valence is a type of valence for both roller and combi blinds wherein its color is exactly the same as its fabric.  This is made possible because the outer layer of the valence is a thin acetate plastic film that is transparent to be able to see its inner layer.  Acetate film is a type of plastic material with a glass-like clarity.  During assembly, a portion of the fabric is inserted in the valence before covering it with the acetate plastic film.
The photos above is from KT5303 Khaki group 2 series and is a blackout type fabric.  A fabric strip of KT5303 Khaki was inserted into each valence before placing the acetate film securely on top of it to create a consistent color for the whole panel.
White Valence
In contrast to the acetate valence, a white valence as shown in the next photos are just plain glossy powder coated white.  This is done using powder coating technique.  This coating is produced by applying paint electrostatically and is cured using heat that produces a harder finish than conventional paint application technique.  The advantage of powder coated white valence paint is that it produces a thicker coating paint that doesn't sag so its white color is very uniform.
To some people the glossy white valence is cleaner looking and easier to wipe clean.  Wiping the dirt off the white valence is smooth while doing the same in an acetate film is not as smooth.  Acetate film also can move out of position if you apply too much force and you need to put it back yourself that is easy enough but a bit of a challenge to some people.
Roller Blinds without Valence
For reference, the photo below is our standard mechanism without any valence.  It is still stylish and fashionable with or without valence and is really a matter of taste for the buyers.  The advantage of course of roller blinds without valence is that it is cheaper since valence is an add-on with additional charges.
For your window cover needs for both residential and commercial and inquiries, please don't hesitate to call us at (02) 403-3262 or (02) 893-1373.  You may also call us at our mobile 0916-311-3909 or email us at inquiry@dswindows.com.  You may also visit us at mall store branches to see all of our available products.
Posted by Melissa Arceo
On September 23, 2016
0 Comment