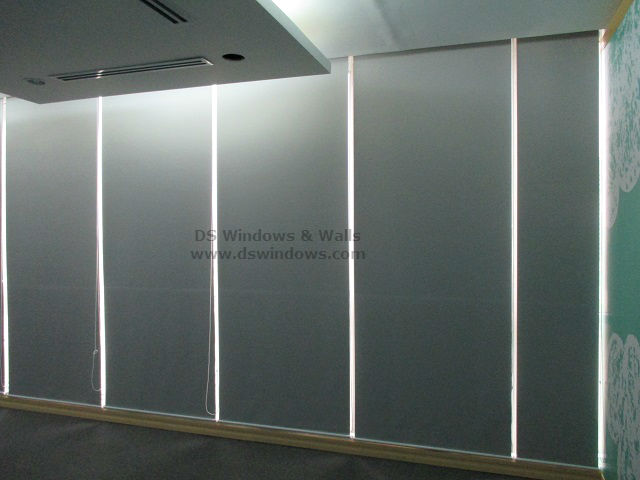 Windows are an important part of a building structure. One of the first main purposes of windows is to provide day lighting and ventilation. Through the years different studies prove and show that even in health, comfort, and efficiency are developed due to well-ventilated indoor surroundings and contact with natural light that's helping people to feel more connected with nature. In any office environment, where people must frequently linger indoors for eight hours or more, windows are the primary opportunity to feel united with the outside environment, that's why it hold a great importance in one construction and influence to people. But, windows also represent a major source of annoying heat, discomfort and irritation due to too much sun exposure, especially for those building on an upper level with big windows.
An office window brings fresh air and natural light that can bring both comfort and irritation. Using proper window treatment can be a big help to avoid the discomfort of too much sunlight by using Blackout Roller Blinds like our client in Ortigas Avenue, Pasig City. With Blackout Roller Blinds you can totally block all the light that distracts the people inside and reduce the hot temperature from the outside. Roller Blinds are also available with different varieties of color that can help to lighten the mood of the people while conveying professionalism like the color of light gray. It's not too colorful but it's bright enough to lighten up the ambiance of an office.
Roller Blinds are also the best option for commercial spaces because of its durable fabric and easy maintenance giving the business owner a great advantage compared to other blinds. It's also easy to use and stylish to look at that can be also used in the residential place as well.
There are lots of different blinds available in DS Windows & Walls that you can see in our online web store http://www.angryblinds.com.ph/. For more inquiry please email us at inquiry@dswindows.com or call us at (02) 403-3262, (02) 668-9668, (02)893-1373 and 0916-311-3909. You can also visit our shop located at 4th level Waltermart Makati, 3rd level Robinson Metro East Pasig City and 2nd level Pacific Mall Lucena City.
Posted by Lyn
On August 1, 2014
0 Comment