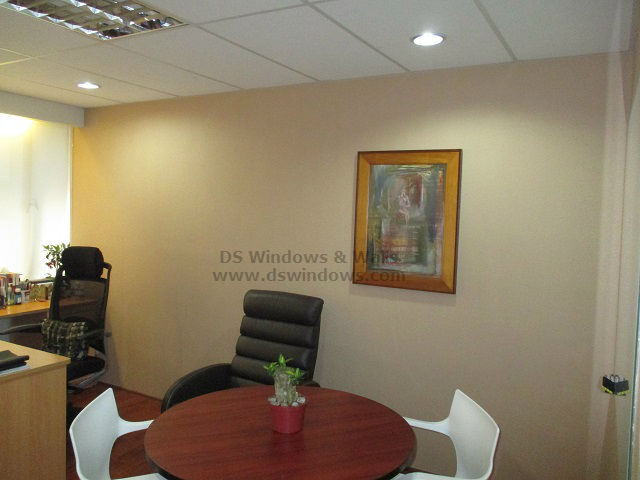 Boring walls, bad atmosphere and depressing ambiance these are the few common comments of employees when it comes to their office appearances.  This kind of comments from the employees creates a not so good business impression and performance.  That is why smart businesses prioritize setting up their workplace to promote productivity, enhance moods, and inspire creativity.  And that's why our client in Pasig City redecorates their office interior to bring good and relaxing ambiance that can motivate creativity and style for its people.  For executive rooms, good interior decors gives a positive impression that last to visitors or prospective clients.
One of the things our client beautify are the walls.  Gone are the days when offices were typically surrounded with white walls and transform it with the use of simple yet fashionable texture wallpaper.  Our client chooses to use plain design wallpaper (Diamond brand) and although it's plain and simple beige wallpaper with a little line and texture it somehow creates a beautiful and modern look in the office. They chose textured wallpaper with beige color because it has the advantage that it can easily match with different motif and can complement the other furniture in the room. It can also create a comfortable, relaxing mood that helps bring good vibes to employees that in some way can encourage creativity and influence people to strive more to achieve success that can also benefit the company. Uplifting the mood of your workplace surrounding can enhance not only the appearance, but also the efficiency of the workers.
Using wallpaper can create a big difference in the entire look of your office since the wall dominates a large part of a room and choosing the right design can create that perfect finishing touch and giving an air of sophistication to your office like our client new office design.  Only wallpaper can produce a realistic appearance with its beautiful texture even though it's simple like the picture below with different lining that goes in all directions that bring a modern look in the room.
Please visit carpet.com.ph/wallpapers to see our different wallpaper design. For more inquiry please email us at inquiry@dswindows.com or call us at (02) 403-3262, (02) 668-9668, (02)893-1373 and 0916-311-3909. You can also visit our shop located at 4th level Waltermart Makati, 3rd level Robinson Metro East Pasig City and 2nd level Pacific Mall Lucena City.
Posted by Lyn
On April 10, 2015
0 Comment