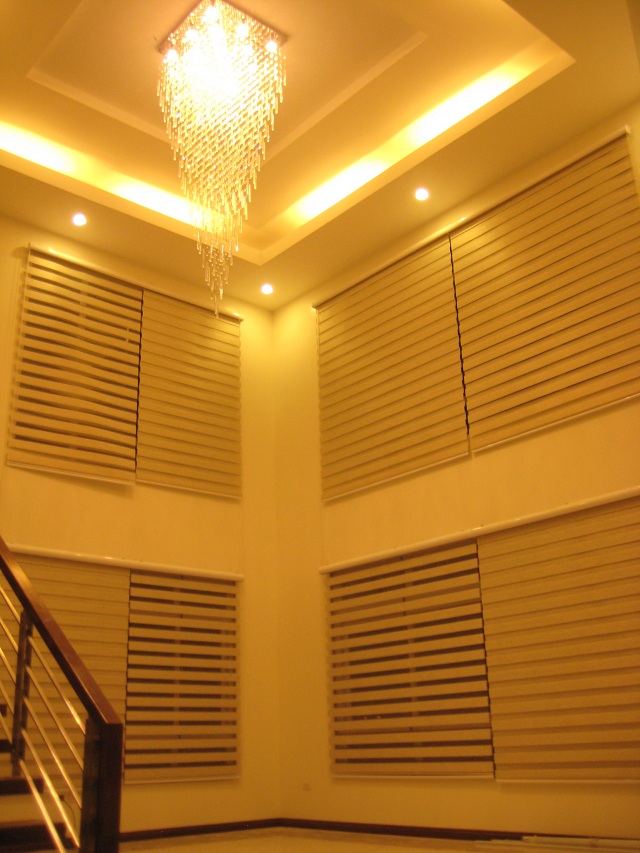 One of our clients from Laguna City, Philippines preferred to purchase our newest window blinds products which is the Combi Blinds. If you want to feel the ambiance of changing lifestyle, DS Windows & Walls Combi Blinds was designed to provide you with a stylish yet economical window covering. Nowadays, it is said to be the newest design in shading system. It consist most of the advantages of roller blinds with a plus, either roller or pleated blind depending on where you're comfortable with.
The opaque parts and the transparent parts of Combi Blinds enable you to adjust the light entering your room. It can be easily operated as roller blinds or shades. When it comes to its maintenance, vacuum cleaner can be used. However, if your Combi Blinds accumulated too much dust, you can wash it using water and mild soap without removing from its bracket. We custom-made any size of Combi Blinds for your windows and it takes as fast as 4 or 5 working days to process your order. If you wish to review any of our products, give us a call at (02) 403-3262 or 0916-311-3909, or email us at inquiry@dswindows.com and we will response you quickly.
Our Combi Blinds comes in an array of colors, designs and fabrics to choose from. Aside from our plain design Combi Blinds, we now have a more luxurious designs and fabrics for Combi Blinds which is of course, more expensive than a plain one. Its features and outcome are worth spending. If you want to see personally our samples, just drop at 4/F, Waltermart Center, Makati City.
You may also visit https://www.carpet.com.ph to see the many colors of combi-blinds available to you.
Posted by jhembadaran
On November 27, 2011
0 Comment