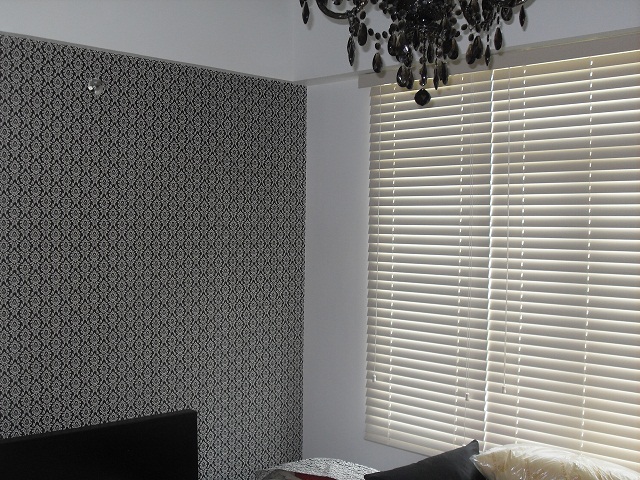 One of our client at Stamford Executive Residences Tower 1 in Taguig City made a good choice on how to renovate her condo unit to new and stylish one by having a wallpaper and faux wood blinds at the same time for a more relaxing and cozy place to live in.
By combining her black and white patterned wallpaper with a white faux wood blind, her room instantly became much more stylish, clean and comfortable.  At DS Windows & Walls you have a lot of options to choose from –by combining certain wallpaper with a wide variety of window blinds (color and texture), and even carpeting and accordion doors.
DS Windows & Walls has an extraordinary and stylish wallpapers follows on from a strong heritage of quality and style, previously seen from the Wall Fashion brand.,It is a name implying the same idea with design excellence and durability.,The designs range from a luxuriously fine and  ornate  reversible fabric of linen to a gently flowing floral trail, and,all are accord by a wonderfully understated textile plain and an elegant classical stripe. The color palette is unashamedly derived from classical routes, embracing velvet reds, moody charcoals and the perennial neutral beige but also adds a touch of sparkle with the odd splash of vibrancy for the more playful of decorator. In addition, the subtle shimmer of metallic finishes creates a worldly experience and sense of regal style to the overall look.
Posted by charissevizcarra
On December 2, 2011
0 Comment