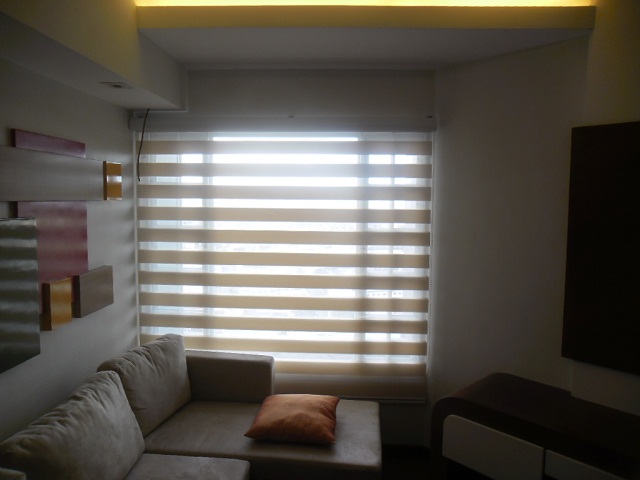 Through time, we all get older, even top quality houses, furniture, window decorations and many more. If your old window treatments are starting to show their age, then DS Windows & Walls have a few options for you to refresh your old window dressing. We have the so called Combi Double Shade or simply Combi Blinds to enhance and refresh your interior decoration. The pictures are from one of our clients at Kingswood Makati Condo, Makati City who opted for a Combi Blinds with a code G201 Marble. The Combi Blinds color match perfectly to his home motif.
It is one of the latest internal shading systems and has both the advantages of roller blinds and venetian blinds. It simply put; horizontally installed two-fold fabrics and consist of transparent parts and opaque parts which can be adjusted to control the light entering your room. We have various designs, materials and hues for Combi Blinds which can be used for any home motif. It can be cleaned using vacuum cleaner or simply soap and water.
If you are interested to purchase Combi Double Shade, reach us without hesitation at (02) 403-3262 or 0916-311-3909, or email us at inquiry@dswindows.com.  You can also check them out personally at our showroom at 4th floor Waltermart Center, Makati City.
Posted by jhembadaran
On October 3, 2011
0 Comment