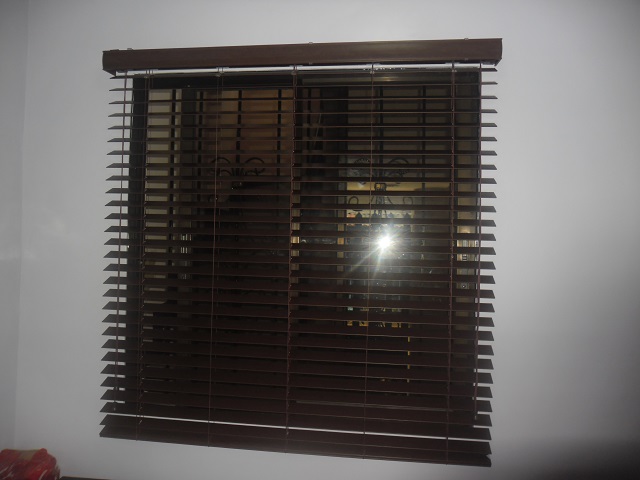 When you are looking for a window blinds, there are hundred things to consider. Below are the few things you need to think to find the best blinds that will work for your home:
1.) You must think first some reasons why you need a blind in a certain room, whether for privacy purposes, light controller or just an additional décor in a room. Some blinds are made for special reasons. If you want privacy or totally block the sun light, you can use solid blinds or blackout fabric blinds.

2.) Window size and shape must not be forgotten. For high window, you can use vertical blinds. For the small one, roller and combi blinds can help make the window larger. If you have a window with a wider size like bay window, horizontal blinds like Wood, Mini or Faux Wood Blinds is a better choice.
3.) Environmental factors are very important to consider. For bathroom or kitchen where your blinds will surely get wet, you must use blinds made of PVC, aluminum or blinds that can easily dry. Avoid Wooden Blinds for these places because wood can easily be damaged especially in humid places.
4.) The room motif is what most people never forget to think. Best blinds for traditional motif is Wooden Blinds, but if you are looking for inexpensive wood look-a-like blinds, you can use Faux Wood Blinds. Both blinds will also be good in a contemporary theme. Vertical and Roller Blinds will be the most common blinds for office because they represent some formality, but it can also be perfect in modern style. Also, do not forget the color of the blinds. Nowadays, almost all blinds have a hundred different colors that you can choose from, and finding the best color for your motif is a challenge.
5.) Lastly, some people forget to consider that maintenance and cleaning can be a big problem.  Curtain can attract dust and can fade because of excessive sun exposure, which means hard and time wasting. While the blinds are so easy to maintain and clean, like slatted blinds, for example, vertical, mini blinds and faux wood blinds can be dusted from time to time and for roller and combi blinds, you can use a vacuum or damp cloth for cleaning. Best blinds to use in windows that is exposed to the sun directly are those blinds made of PVC and aluminum like PVC Vertical, Mini Blinds and Faux Wood Blinds.
Photos of Fauxwood Blinds are from our client in Global City, Taguig, Philippines who loved to have wood-like material for their home:
DS Windows & Walls offers a lot of interior décor from blinds, wallpaper, carpet and folding door / partition. If you are interested, you can call us at (02) 893-1373 / (02) 403-3262 / 0916-311-3909 or email us at inquiry@dswindows.com. For more information, you can visit our website http://www.dswindows.com or you can also personally go to our showrooms at 4th Level Waltermart, Makati City, 3rd Level Robinsons Metro East, Pasig City and 2nd Level Pacific Mall, Lucena City.
Posted by jhembadaran
On August 31, 2013
0 Comment