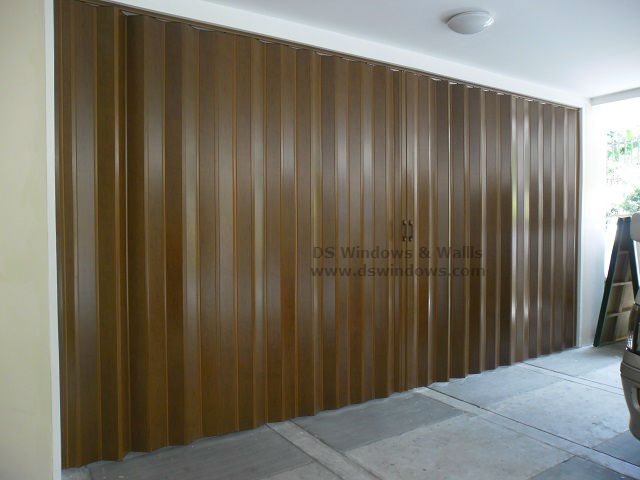 When buying a folding door one question you'll encounter is that, do you want it one-way or split type. One-way option is for typical accordion door that goes to one side.  It's usually used for a standard-sized door while the split type is divided into two panels separated in the middle that goes in both sides great for larger opening.
For some of our clients in Mandaluyong City who opted for split type accordion like for their garage this type is much better compared to one-way style. Just imagine the possibility of using the accordion door for a long opening with one-way style and if you happen to open it and fold it all together in one side it will consume a lot of space in that particular area and it will look messy and unpleasant. Split type is specially designed to accommodate large opening door to be parted in the middle to make it easier to open and maintain the sophisticated look.
As for accordion door used as room partition, by separating a large open area like a canteen or for home divider between living room and dining area, choosing split type folding door is the way to go.  Not only that it's more appealing, it's also more appropriate. Using split type that divides the panel into two helps to keep a great deal of space and can be operated much easier because it decreases the movement of space of the panel while opening and closing.
For more information about our products you can visit our shop located at 4th level Waltermart Makati, 3rd level Robinson Metro East Pasig City and 2nd level Pacific Mall Lucena City. You can also email us at inqury@dswindows.com or call us at (02) 403-3262, (02) 668-9668, (02)893-1373 and 0916-311-3909.
Posted by Lyn
On July 8, 2014
0 Comment