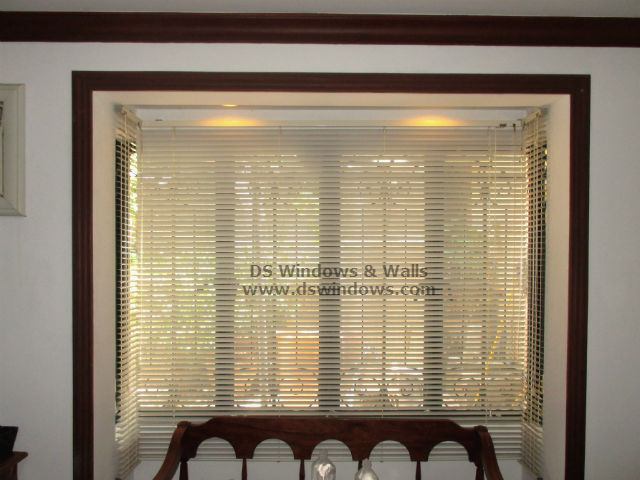 Windows serve as a passageway of light into your room; it lets the air enter inside to keep your room fresh and dry. Windows contribute a lot in interior designing, it also helps define the style of your place whether it's traditional or modern. There are many types of windows and it depends on your sense of style and what would suit on your home interior. The pictures below is aluminum venetian blinds from one of the many types of window, i.e. a rectangular bay window, from one of our client in Sto. Thomas Batangas.
This type of windows consists of one large window in the center and two perpendicular smaller windows on both sides. It is still popular nowadays, especially for the two storey, old and modern houses and establishments. This type of window also needs a special window treatment. Bay window can be a little complicated when it comes to measuring and installing of blinds, but venetian blinds are popularly considered by homeowners.
Since window gives a big impact in your home interior it is important to make an effort to beautify your window, just like what our client did in their window. Our client opted aluminum venetian blinds and selected almond color which is a close color to their surroundings.  Aluminum venetian blinds provide a functional control in light and even in privacy. It has wide choices of colors to provide a stylish look not only in the blinds itself but also in the whole area. The dark brown wooden frame in their window frame was able to express how classic their home interior is. They also added pin light to create a warm atmosphere wherein every person can feel relaxed.
DS Windows and Walls Interior Supply is one of the most popular supplier of window blinds, PVC folding doors, carpets and wallpapers. They also offer services like FREE site visit for measurement within Metro Manila.
For Quezon, Batangas, Cavite and Laguna area you may contact Jing Libardo at Sun 0932-373-2050.
You can visit our webstore at www.angryblinds.com.ph for more swatches of our products. You can also visit our shop located at 4th level Waltermart, Makati City, 3rd level Robinson Metro East, Pasig City and 2nd level Pacific Mall, Lucena City.
Posted by Lyn
On October 11, 2014
0 Comment