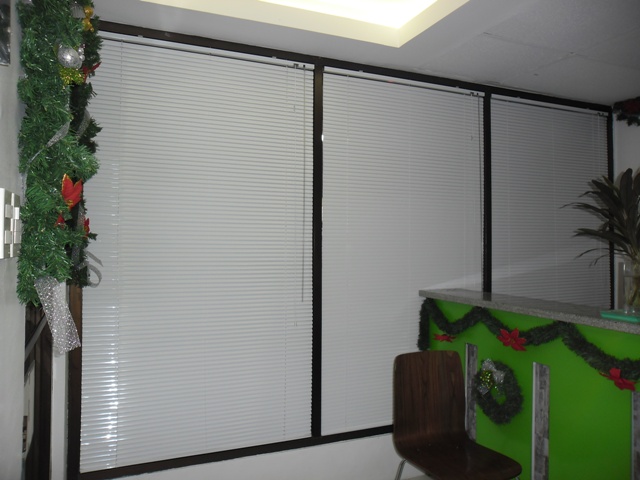 Window Blinds Philippines ─ Christmas is here. Air gets cooler & cooler as it goes by. Our old curtains may not compensate to protect us from cold outside and window blinds are the answer. We have aluminum mini venetian blinds or simply mini blinds to cover your windows and provide best value for your money.
Our aluminum mini blinds are available in 1inch slat size which looks most sophisticated and fashionable. They come in wide array of wonderful colors and designs ranging from plain, metallic and perforated type. It is also made according to your specification of colors and sizes. You can combine different colors as you wish. With these endless options, you can create one that best meet your taste, budget and needs. Click here for the color options of our venetian blinds.
DS Windows & Walls' mini blinds are made of aluminum materials which are more durable and stronger yet lightweight than those made from vinyl materials. It is also designed with static paint, thus they do not accumulate too much dust than those of old style aluminum mini blinds. They can be cleaned by just using soap and water; however, wiping every slat can be quite time and effort consuming.
Photos below are installed mini venetian blinds at Panda Cleaners Laundry, Makati City. They opted for plain white mini blinds for their windows and it incorporate to their overall white motif as a sign of "Cleanliness". If you think that standard size blinds displayed at different mall stores may not suit your best taste, then we will custom-made it according to your requirement. It only takes 4-5 days process. This Christmas, treat your windows with a sophisticated and stylish mini blinds. Call us at (02) 403-3262 or 0916-311-3909, or email us at inquiry@dswindows.com for your inquiries.
Posted by jhembadaran
On January 2, 2012
0 Comment