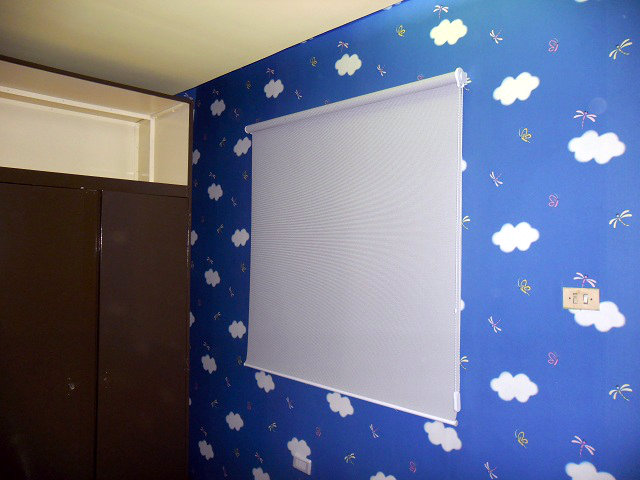 Trying to decide between using home paint or wall paper cover can be a hard task to homeowners. Each of them can create a unique outcome if we will use it in a proper way. Other thinks that using interior paint is less expensive than using interior vinyl wallpaper. I can say that it's quite true, but unlike vinyl wall paper cover, a good coat of paint only lasts for 2 years while a vinyl wall coverings can last up to 10 and 15 years without fading its color. Our client from San Juan City, Philippines opted for printed blue color of vinyl wall paper covers that have a cloudy design, creating  an illusion of a cloudy sky and peaceful surroundings.
According to our client, they are tired of seeing plain wall paints and sometimes seem to be too boring that is why they opted for wall paper cover for their daughter's room. Using vinyl wall paper has various advantages. Aside from being stylish and durable, it is also easy to maintain, damp soft cloth is the primary material used in cleaning vinyl wall paper. Vinyl Wall Paper Cover from DS Windows and Walls adds character and value to your home. It has a variety of patterns and textures for you to choose the right style and patterns for your room.
If you are in need of vinyl wall paper cover, fell free to visit DS Windows and Walls at 2nd level Pacific Mall, Lucena City, 3rd level Robinsons Metro East, Pasig City and 4th level Waltermart, Makati City. Right there, you can see various patters and textures for vinyl wall paper. Aside from wallpapers, we also offer different kind of window blinds, accordion doors and carpets. You may contact us at 0916-311-3909 / (02) 893-1373 / (02) 403-4363 / (02) 668-9668 or email us at inquiry@dswindows.com. For prompt response, visit our FACEBOOK page and like us at http://www.facebook.com/windowblindsphilippines,  http://www.facebook.com/blindsphilippines.
Posted by nenaragonot
On February 10, 2013
0 Comment