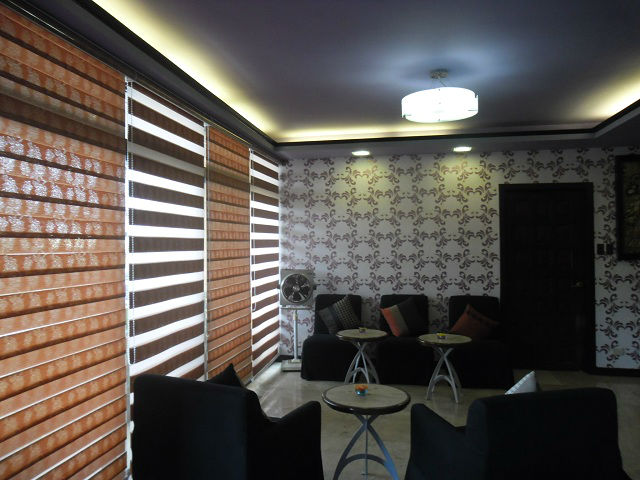 Our living area is one of the most highlighted when it comes to interior decoration. It is the most popular place to entertain guests and where family members enjoy and relax together after a long stressful workweek. That is why it is necessary to make it a chic, unique and comfortable sanctuary to end a day and to ensure the comfort of visitors.
Spacious living area is one of everyone's wish to have. However, it requires chic and unique decoration. Huge walls of glass are commonly found in spacious living area especially in modern day homes. It gives and creates an inspirational and bright living area. Huge walls of glass require a chic, unique and functional cover to fully attain the desired interior motif. Myriad treatments for glass wall are available in the market nowadays. Roller Shades are commonly used for glass wall in the Philippines especially for commercial spaces. On the other hand, Combi Blinds as one of the newest internal shading system nowadays are suitable and perfect to use in residential living area's glass wall.
One of our clients from Paranaque City, Philippines does have spacious living area and a glass wall. She preferred to use Combi Blinds in Anemone design for her glass wall. The design of Combi Blinds perfectly fit to her living area interior; from its wall cover, décor, accessories, and sofas with her three small round tables.  Their blending perfectly compliment with each other creating a dramatic, fantastic and beautiful interior. Photos are installation of Combi Blinds Anemone in Paranaque City, Philippines:
Combi Blinds do have plain designs which are commonly preferred by budget concern homeowners for it is more affordable than the decorated one. Combi Blinds Anemone which is chosen by our client in Paranaque City belongs to decorated Combi Blinds which consists of five different colors and designs which are the following:
Call us at (02) 403-3262 / (02) 893-1373 / 0916-311-3909 or email us at inquiry@dswindows.com for FREE quotation. We do visit areas for FREE to measure in actual. Different pretty and functional window treatments, wallpapers, accordion doors and carpets are also available. For actual samples, feel free to visit our showrooms at 4th level Waltermart Center, Makati City, 3rd level Robinsons Metro East, Pasig City and 2nd level Pacific Mall, Lucena City.
Have one now for a chic and unique living area!
Posted by nenaragonot
On September 5, 2012
0 Comment