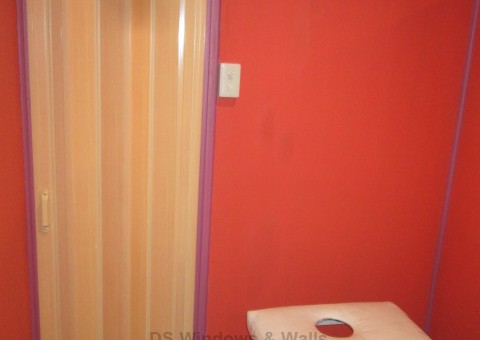 Nowadays spa and massage establishment are quietly gaining popularity and making its name in the business industry. With the hectic lifestyle today most people now are looking for a place and different activities where they can bliss out and pamper their selves with a relaxing body treatment such as; body massage, foot spa, facial and many more.
Spa and massage business is mainly focusing on providing relaxing services that's why its very strict when it comes to interior details because when it comes to spa designs it should always offer a peaceful, soothing and alluring ambiance. You can notice that most spa themes always involves nature design because natural environment has a soothing feeling that quickly relax our nerves.
One of our client started a spa and massage business and opted for PVC Folding Door. As for our client who uses a nature motif the soft textures and calming colors of PVC folding doors helps to give a relaxing and peaceful ambiance to the spa. This modern type yet inexpensive folding door is not only pleasing to the eye, but they can also give your customers, privacy and safety. PVC folding door can also help to prevent the cold temperature needed in the massage room from escaping and vice versa. This easy to clean, practical and fascinating folding doors can make a room interior feel bright and cozy and at the same time can also visually increase the size of your business space.
Using a wood finish PVC folding doors colors with decorative background can encourage a decorative sense. Following today spas design which are focusing more on nature design, clean, relaxing and inspiring ambiance with PVC folding door can perfectly express.
DS Windows offers a great selection of functional and striking PVC folding doors for residential and business decorating ideas. PVC Folding Doors can be more than just an appealing adornment they're also opportunities to boost function and reveal the beauty of your store.
For more inquiries please call us at (02) 893-1373 / (02) 403-3262 / (02) 668-9668 / 0916-311-3909 or visit our showroom at 2nd level Pacific Mall Lucena City, 3rd level Robinsons Metro East, Pasig City and 4th level Waltermart, Makati City.
Posted by Melissa Arceo
On March 5, 2016
0 Comment