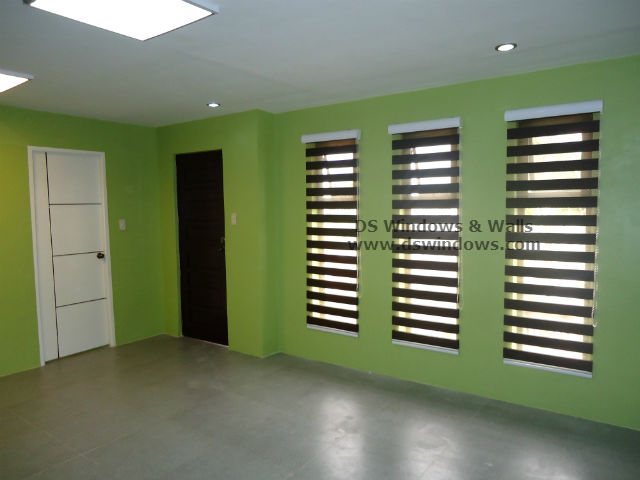 Windows have different sizes and shapes, but they do have common purpose – that is to allow the passage of air, sound and light. It is also used for proper ventilation and controlling of light and privacy. Window coverings are one of the effective ways of controlling the light and to provide a superior privacy, but some of the homeowner used window covering just for cosmetic purposes only.
Windows create a big impact in your home interior, especially if it is covered with blinds and shades. The photos presented here are samples of dual shade blinds installed at narrow windows and is owned by one of our customers from Angono, Rizal. Our client has three narrow windows in their room, it was also attached with translucent glass, and was constructed to make their room feel open and larger, it also builds a kind of rhythm in their room. Our client opted dual shade blinds as a window treatment for their narrow window in order to provide privacy. They also selected the choco color (code W207 Choco) that is well coordinated with their wooden door, dark color of blinds helps to lessen the light that will penetrate inside their room. It was also matched with their light green walls to make a cooler effect in their room.
Dual shade blinds are very stylish types of blinds that brings elegance in every room or space. It is also practical for home owners because dual shades blinds can be adjusted into light filtering and blackout for complete privacy at the same time, you don't need to purchase different types of window blinds or double mechanism blinds because it can cost much higher compared to dual shades blinds. There are different types, design, colors and texture that you can choose to make your place more fashionable.
To check our different types and swatches of our dual shade blids you can visit our store located at 4th level Waltermart, Makati City, 3rd level Robinson Metro East, Pasig City and 2nd level Pacific Mall, Lucena City. You can check our webstore at www.angryblinds.com.ph. For more information you may call us at (02) 403-3262 / (02) 668-9668 / (02) 893-1373 and 0916-311-3909 or you may also send your inquiries at inquiry@dswindows.com.
Posted by Lyn
On December 4, 2014
0 Comment