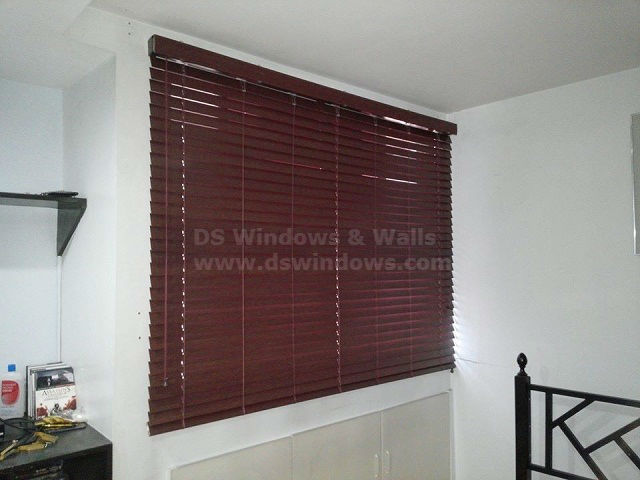 Real wood blinds is a little expensive to purchase, but its popularity will never be gone because it is timeless, that's why an imitation or fake wood blinds was produced. One of the closest look alike and imitation of real wood blinds are  Faux wood and Foam wood blinds, which DS Windows & Walls both offers. These two different blinds are much more cheaper compared to a real wood blinds, but if you will look at their durability and adaptation in different climates, it shows that foam and Faux wood blinds are better choice.
One of our clients in Wackwack Greenhills, Mandaluyong City, Philippines opted for both Faux and Foam wood blinds in two different areas of her house. She used Foam wood blinds in her kitchen window, which is close to her sink while Faux wood blinds for her living room. Many have proven that wood blinds aren't allowed in damp places unlike foam wood blinds and faux wood blinds because they are both moisture and heat resistant. Both Faux wood and foam wood is adoptable and recommendable in dump places are like kitchen and shower room. There durability and longevity surpass wood blinds without a doubt.
Please feel free to contact us at (02) 893-1373/ (02) 403-3262 / 0916-311-3909 or email us at inquiry@dswindows.com for any inquiries. You can also personally see our sample products and swatches at 4th Level Waltermart, Makati City, 3rd Level Robinsons Metro East, Pasig City and 2nd Level Pacific Mall, Lucena City.
Posted by Melissa Arceo
On January 24, 2014
0 Comment