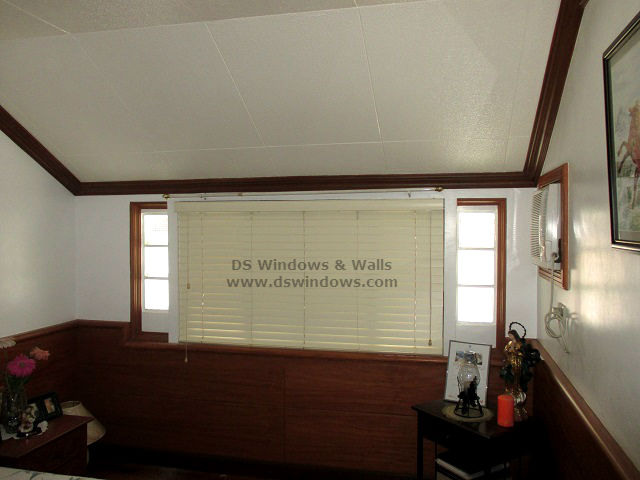 Most people use the attic room for storage because of its large and functional space when they can make it into something more useful. In fact, it can be the most interesting and appealing room in your entire house. It holds a special charm that connects and attracts us that brings warm feeling that follow us around. It's possible that it's because the confined nature of the space and the isolation of it from the rest of the house which make it such a huge hit. It can be transformed into a lot of different room like your personal office, library, entertainment room or additional bedroom. Just like what our client in Newport, Pasay City did make her attic a guest room with classy wooden blinds that completes her project.
Turning an attic into a guest room comes along with many challenges. Since the attic is the space between the ceiling of the top floor and angled roof, they are an awkward shape with uneven heights of the roof that sometimes limits the space that you can use. When it comes to attic windows it's one the best attraction of the room so it's only natural to use a window cover that brings class to the appearance of the room. You also need to consider that attic windows are much more expose to different weather compared with windows on lower floors in the house so bare in minds to use window cover that durable with striking look like real wood blinds.
Wooden blinds itself can bring class and grace to any room. It has long-lasting material that it's made of and can withstand different climate. As for our client she also chooses to use white wood blinds to bring peacefulness and comforts to her guest room attic. Using white wood blinds also match her simple and modern design with a touch of elegance.
DS Windows & Walls offers customize Wood Blinds with different color available that you can combine depending on your choice. For more inquiry please email us at inquiry@dswindows.com or call us at (02) 403-3262, (02) 668-9668, (02)893-1373 and 0916-311-3909. You can also visit our shop located at 4th level Waltermart Makati, 3rd level Robinson Metro East Pasig City and 2nd level Pacific Mall Lucena City.
Posted by Lyn
On July 19, 2014
0 Comment