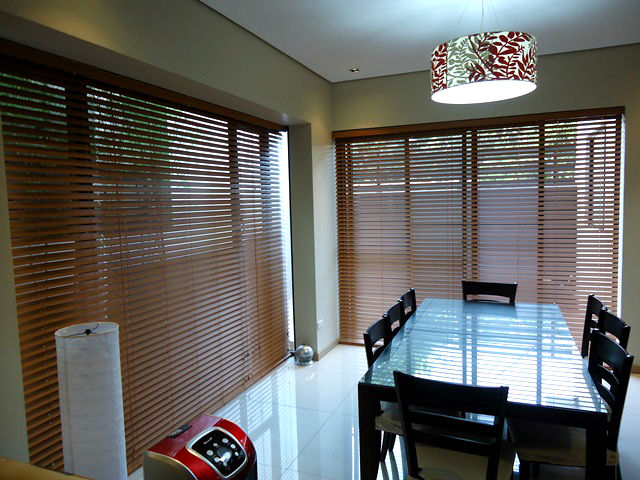 It is true that Faux Wood Blinds is also known as Fake Wood Blinds and the difference between the fake wood and the real wood can easily be seen if you observe it closely. Faux Wood Blinds is also heavier than real Wood Blinds, but the durability and the advantages of Faux Wood is way far from Wood Blinds. Despite of its elegance, real wood blinds have also disadvantage. Wood Blinds are much more expensive compared to faux wood blinds and it can be damaged when it gets wet. There is also a possibility that it will crack when it accidentally falls or when a child plays with it and pull it.
One of our clients in Paranaque City opted for Faux Wood Blinds: Birch for her beautiful dining area. At first, she does not like Faux Wood Blinds since it is called fake wood and she really likes to use real wood blinds, until she learned the advantages of Faux Wood Blinds. Faux wood blinds are not only durable and resistance to water, but also it is the only blinds that can stop the fire from spreading.
Faux Wood Blinds is cheaper than real woods, but with the pictures shown, you will never have a clue that it's not the real thing because it's oozing with elegance and style.  Our client was so satisfied with the outcome of her blinds and she has a bonus in saving a lot of money while getting the same look that she was looking for in the first place.
For more information, please visit our showrooms located at 4th Level Waltermart, Makati City, 3rd Level Robinsons Metro East, Pasig City and 2nd Level Pacific Mall, Lucena City.  For further details, don't hesitate to call us at (02) 893-1373 / (02) 403-3262 / 0916-311-3909 or email us at inquiry@dswindows.com.
Posted by Melissa Arceo
On July 1, 2013
0 Comment