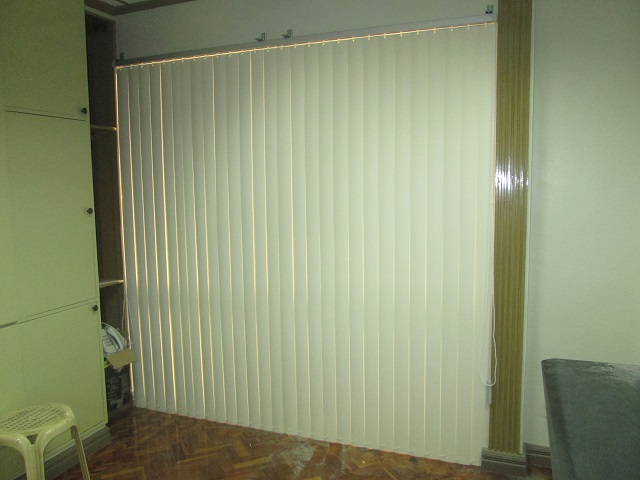 PVC vertical blinds are one of the most typical blinds that you can see anywhere. You can use it in your house, restaurant, office or school. It is common because it can fit perfectly to windows in any size. If you have stair windows, PVC vertical blinds are appropriate for it. Aside from windows, you can also use PVC vertical blinds in patio doors, sliding glass doors, glass walls, etc.
One of our clients in Pasay City made PVC vertical blinds as a room partition. At first, they preferred to use accordion door as a partition, but the problem is that they do not have a space where they can attach the folding door, so we suggest using PVC Vertical Blinds as an alternative partition. It really works for them and it makes their house looks more stylish and modish. They also save more money through using PVC vertical blinds because it is much more inexpensive than a real divider.
We can custom-made PVC Vertical Blinds as long as it does not exceed in 10 feet width (120 inches) and 4.88 meter height (192 inches). We also have various choices on what window treatment will look best to your windows or walls. You can also combine colors that you want for particular blinds like Mini Fauxwood Blinds, Wooden Blinds and Vertical Blinds. We are allowing you to create your own style for your preferred home motif.
For more inquiries, call DS Windows & Walls Interior Supply at (02) 893-1373 / (02) 403-3262 / 0916-311-3909 or e-mail us at inquiry@dswindows.com. You can also visit our website at www.dswindows.com .
You can also visit our showrooms located at:
4th Level Waltermart, Makati City
3rd Level Robinsons Metro East, Pasig City
2nd Level Pacific Mall, Lucena City
Posted by jhembadaran
On August 31, 2013
0 Comment