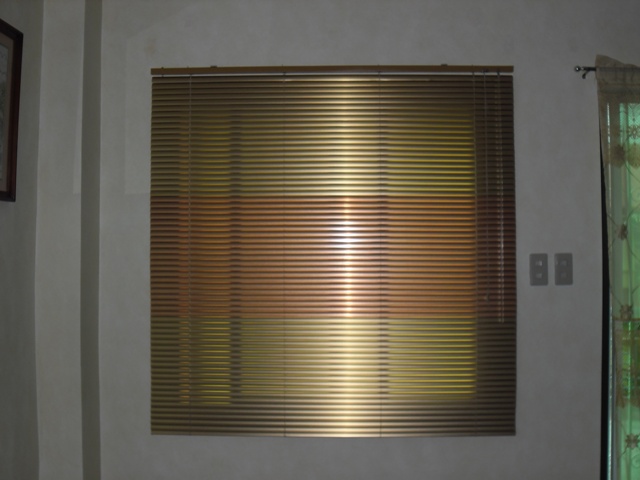 If you are having trouble determining between what color you want for you window blinds, consider using multi-colored Venetian blinds for your home.  When you want more than one color for your window treatment to fasten all of the colors of your room together, multi-colored blinds are a great solution.  Combination of different colors in a decorative designs or blending will be better suited than simply one specific color.  DS Windows & Walls offers a selection of these multi-colored Mini blinds at a very competitive price.
It is also noteworthy that this multi-color style of blinds is not exclusive to Venetian Blinds.  You can also choose to select
multi-color for vertical blinds
, wood blinds, and faux-wood blinds.
One of our Client in Filinvest South  Homes in Biñan, Laguna, choose to have a multi-colored mini blinds at her home. Beige Satin – Fawn Satin – Beige Satin (equally divided) and Gold Star – Copper Star – Gold Star (equally divided).
DS Windows & Walls offers FREE Estimate and Quotation within Metro Manila, for more queries you can reach us at 403-3262 or 893-1373 and you can text us at 0916-311-3909. Email us to inquiry@dswindows.com. Our kiosk is located at 4th Floor of Waltermart Center, Makati City. You can also visit https://www.carpet.com.ph/venetian-blinds for you to have more idea what color and designs you want for you window coverings.
Posted by charissevizcarra
On January 15, 2012
0 Comment