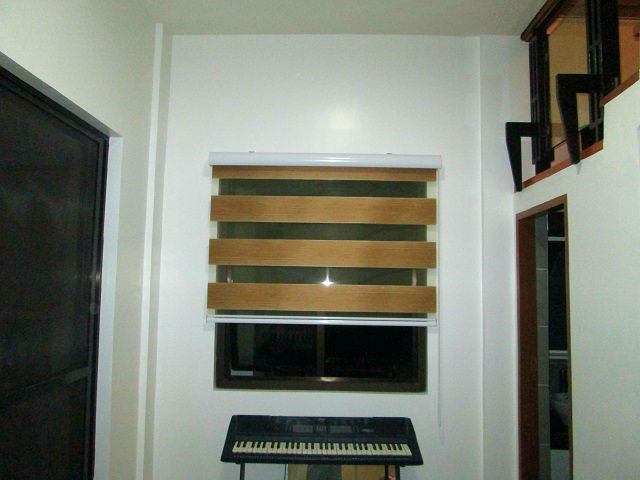 One of the favorite hobbies of our client who lives in UP Village, Quezon City is to play a piano. He even has his own piano room to make the sound more beautiful and to keep his piano and other music accessories safe and sound. The room itself needs a lot of thinking and effort to make it a music room to create a beautiful and harmonic sound.
For music room, the sound can be better on a hard and concrete wall and floor because it is more versatile. Putting a rug or a carpet under the piano as a sound absorption in the center part of your floor is also a good option. For an electric guitar of our client, it is better to put it in a small room and isolated area because just like piano, it is quite sensitive. They should be kept at a low temperature and direct sunlight to avoid damage in the physical appearance and in the technical issue.
For our client who loves to play piano in front of the window, he opted for blackout Combi Blinds to enjoy playing his music while protecting him from direct sun rays. Since Combi Blinds can control the amount of sunlight entering his room, he can prevent the damages caused by direct sun rays and he can play in front of the window in the middle of the day without any disturbance.
For blackout Combi Blinds color options, you may visit www.angryblinds.com.ph – Blackout Combi Blinds. DS Windows & Walls Interior Supply offers Combi Blinds that have been the best-selling blinds since 2012. For more details, you can visit our showrooms located at 4th Level Waltermart, Makati City, 3rd Level Robinsons Metro East, Pasig City and 2nd Level Pacific Mall, Lucena City. You can also call us at (02) 893-1373 / (02) 403-3262 / 0916-311-3909 or email us at inquiry@dswindows.com for inquiries.
Posted by Melissa Arceo
On June 3, 2013
0 Comment