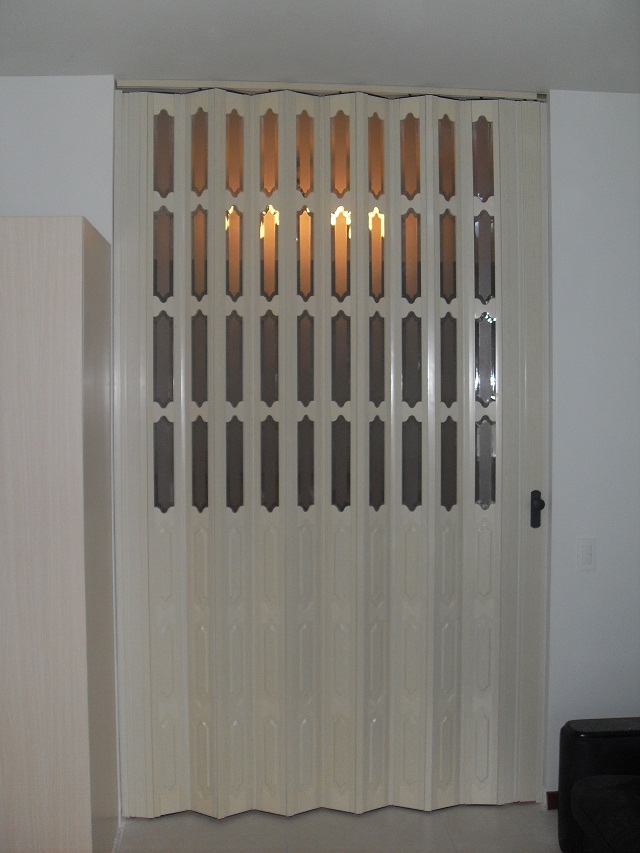 Unlike past economic condition, today's economic situation becomes tighter than before.  Spaces and areas nowadays are effectively utilized either residential or commercial spaces. For traditional hinged door, it occupies or covers much space for its swinging movement. To completely utilize every corner of your home or office, then you should prefer to use accordion door or simply known as folding door rather than traditional hinged door.
For accordion door, the major benefit is space. This space saving door can be used as room or office divider, closet door or simply as door. You can have them partially or totally open or close. They are durable enough and can stand in a long time even when exposed to moisture or heat. They can be easily cleaned, require less maintenance and can be easily operated for the fact that it slides silently and smoothly. Unlike other normal doors, PVC folding doors are more affordable yet functional. DS Windows and Walls' accordion doors are made up of PVC materials so they are accessible in a wide variety of colors, designs, and thickness. If you opt for a more classic one, we can offer you the french type of accordion door which consist of a glass materials. For a french type of accordion door, different designs and textures of glass are attainable, depending on your desired style.
For our customer at The Columns, Legaspi Village, Makati City, opted for a french type accordion door, white ash in color, and type B design. For a more fashionable and elegant result without spending too much of your hard earned money, then you can choose french type of folding door.
For a well-fitted measurement, we customize different sizes of folding doors according to your specification. For more details, reach us at (02) 403-3262 or 0916-311-3909, or email us at inquiry@dswindows.com. You may also visit our show room at 4th floor Waltermart Center, Makati City.
Posted by jhembadaran
On August 19, 2011
0 Comment