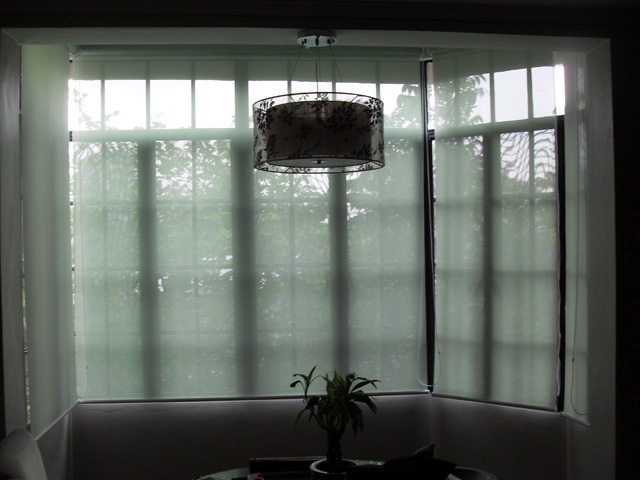 For the past years, roller blinds have been used commonly in office building and in residential as well. It is proven to be useful in trapping the UV Rays coming from the sun, hence, protecting the home and office furniture from direct sunlight. Even though it is very common in the market, it retains its popularity for the fact that it is very functional.
Installed Roller Blinds at Ecology Village Makati City Philippines
With years of serving our customers accompanied with the knowledge and experience in supplying and manufacturing roller blinds, DS Windows and Walls' offers you the widest choice of styles, fabrics and designs of roller blinds which will perfectly fit for any room decor and lifestyle. It is very affordable compared to other window blinds and vary its prices according to its texture and its quality.
Roller blinds consist of a long piece of stiffened fabric or vinyl, rolled onto a cylinder mounted at the top of the window, with a wooden- or plastic-enforced them at the end, and rolled up and down by a continuous cord over a slender.
Our roller blinds are available in a total block out material and also sun screen material, depending on the taste of our customer. For our customer at Ecology Village Makati City, who loved the sheer shade effect, opted for a green color sun screen roller blinds. For our customers, the choice is yours.
DS Windows and Walls' offers you FREE ESTIMATE and MEASUREMENT.
For your inquiries regarding our products, don't hesitate to call us at (02) 403-3262, text us at 0916-311-3909, or email us at inquiry@dswindows.com.
Posted by jhembadaran
On June 16, 2011
0 Comment