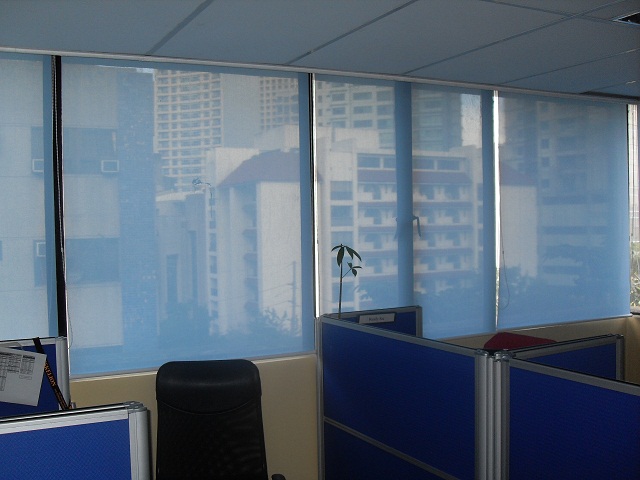 The interior color scheme of a window blinds project creates the emotion, personal taste and individuality of the occupants. Psychologists believe that the subtle power of color can dramatically change human emotion, moods and feelings.
The color wheel is designed by Sir Isaac Newton and used as a basic tool for combining colors.
Colors in the red area of the color spectrum are said to be warm colors ( red, orange, yellow ). These warm colors evoke emotions ranging from feelings of warmth and comfort to feelings of anger and hostility.
Colors on the blue side of the spectrum are said to be cool colors ( blue, purple and green ). These colors are often described as calm, but can also call to mind feelings of sadness or indifference.
Warm color is vivid and energetic, and tends to advance in space. The color of the window blind & the wall tend to be complementary because they are opposite each other on the color wheel and when used at full saturation can create a vibrant look. On the other hand, complementary colors must be managed well so it is not jarring.
Cool color gives an impression of calm, and creates a soothing impression. The color combination between the windows and the wall tend to be analogous for the fact that those colors are next to each other on the color wheel. The combination creates serene and comfortable designs and this scheme is often found in nature. However, enough contrast is necessary when choosing an analogous color scheme.
There are color effects that have universal meaning despite of the fact that perception of color is somewhat subjective. Choosing color combination harmoniously and consciously can create dramatic results.
If you have any queries, don't hesitate to call us at (02) 403-3262 or 0916-311-3909, or email us at inquiry@dswindows.com. You can also visit our show room at 4th floor Waltermart Center, Makati City and our friendly staffs will help and guide you to choose the best for your interior decoration.
Posted by jhembadaran
On September 19, 2011
0 Comment