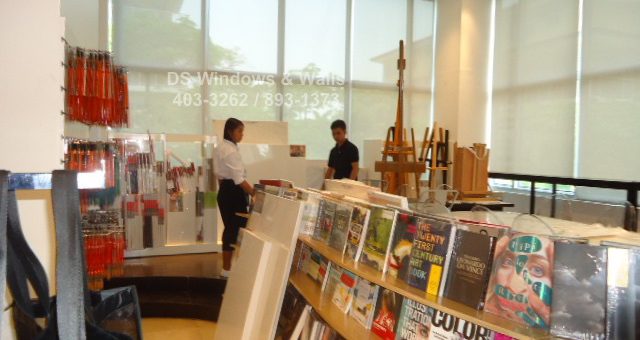 Last month we had the opportunity to work with a well known bookstore in Serendra BGC for their roller blinds requirements. They recently renovated their place which includes replacement of their aging roller blinds. The fabrics of this type of blinds are easy to clean and maintain but if you want to attain a new look and you have the budget then replacement of your window blinds and shades can freshen up your store's perspective. In the case of our client, they had some major structural change and so the old blinds doesn't fit perfectly anymore so they reordered new sets.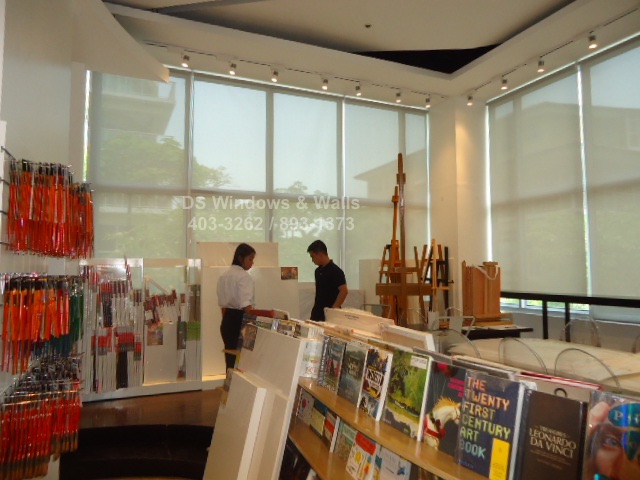 For a bookstore and general retail shops with wide and tall glass windows, it is important to select the most appropriate fabric specific for your need. When choosing the fabric, there is a specific balancing act wherein (1) you want to protect your merchandise and customers inside from too much light and heat while (2) at the same time making sure that customers outside can still view and encourage buying customers to get inside your store. Typically, you'll choose 5% openness factor fabrics for windows with the most traffic and 1-3% openness factor for windows with direct sunlight especially for afternoon heat. During night time, rainy days, or specific time in the day when the sun is not glaring these roller blinds can be opened all the way up for maximum exposure to the passing customers.
Roller blinds is one of the top choice for bookstores and other retail shops because of its simplicity and functionality. It doesn't try to get the guest attention yet works hard to do what's it's suppose to do. For retail shops you'll very seldom see other blinds and shades such as combi blinds, wood blinds, or even venetian blinds because these types effectively blocks your store inside which defeats the purpose of a retail shop where the general market are the people passing by. Using a fabric type like sheer or sunscreen can strike the balance specific for the need of a typical retail store.
For more information of our roller blinds and to avail free estimate and quotation (if within Metro Manila) you can call us at (02) 403-3262, (02) 893-1373, 668-9668, 0916-311-3909. You can also visit us at our show rooms at Waltermart Makati, Robinsons Metro East, or Pacific Mall Lucena.
Posted by Kristel
On May 15, 2017
0 Comments