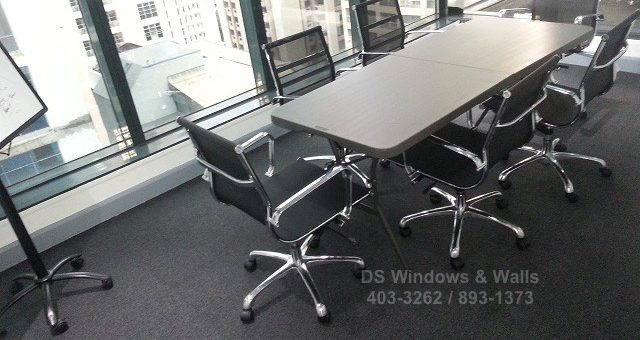 Today we are featuring a carpet tile customer from the 7th tallest building (as of 2016) in Makati CBD along Paseo De Roxas and is directly across Ayala Triangle.  The building has 48 floors and is 200 meters high and is usually occupied by multinational companies such as the one we're presenting in this blog.
Multinational corporations (MNC) almost always favor carpet tiles over any other types of flooring and is periodically dismantled and replaced to preserve the ambiance and comfort that these floor covering brings.  The reasons are plenty but mostly because it adds cushion to the hard floor thereby giving additional safety, comfort, and some sound-proofing.
Carpet tile durability and longevity depends on the chosen carpet material but is commonly a combination of Olefin, polypropylene (PP), and nylon.  100% nylon is best when it comes to durability and can last 15 years or more and those that are not 100% nylon can last between 5-15 years and really depends on the traffic volume of the area.
However, if the company can afford, they sometimes do not wait for the flooring to completely wear out and that they replace it long before it becomes unappealing.
Dismantling/disposal and replacement of carpet tile is a common service that DS Windows & Walls render to its customers.  The scope of work includes dismantling of existing carpet tiles including temporarily removing cubicles and office equipment.  Sometimes this is done in phases wherein some segments are being dismantled while other workers install the new carpet tiles in parallel.  After the process of removing old and re-installing new carpet tiles the next challenge (in the standpoint of logistics) is the disposal of the old carpet tile.  We offer disposal services but with a fee since this requires leasing trucking services specialized in garbage disposal.
Fresh new carpet is something executives in the company and workers enjoy.  Who wouldn't want a clean, comfortable, and presentable workplace?  In the case of big companies where they have regular foreign investors or stakeholders visiting their office, it is imperative to maintain an impressive office and one of the best way to achieve this is through a classy flooring that covers a lot of surface.
DS Windows & Walls is your partner in your carpeting needs big or small, home or office, with or without carpet dismantling and disposal.  Visit us at one of our branches or call us – here's is our contact page.
Posted by Melissa Arceo
On August 10, 2016
0 Comments